Ten Things You Cannae Miss… May 15 – 21
---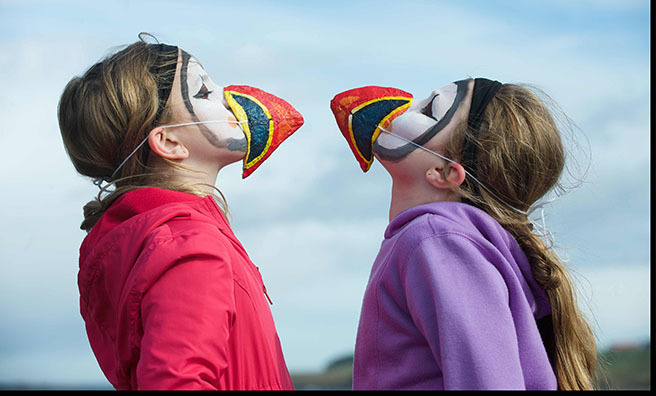 Our team have swept the length and breadth of Scotland to find you the most vibrant, most unusual and most unmissable events on offer this weekend, and in the coming week . . .
A Fest of Feathers
From Friday, May 15, the Scottish Seabird Centre are hosting a ten-day celebration for one of the country's favourite seabirds: the puffin. All sorts of activities and excursions are planned to celebrate the clowns of the sea, so have a look on the Centre's website to find out more!
Night at the Museum
Aberdeen University joins the annual after-hours festival of arts, culture and heritage on Saturday, May 16, with a family-friendly Egyptian adventure! Face-painting, fancy dress, live meerkats and tips on how to mummify a body are sure to keep the kids entertained. Free entry.
Feast of Food
The fields next to the Loch Fyne Oyster Bar, Cairndow, will be swarming with the very best of Scottish produce this weekend ( May 16 – 17). From oysters to ales, and from stovies to shortbread, the food stalls have something to tempt even the most fussy of palates.
Jim Clark Weekend
Taking place in Duns in the Borders over May 16 and 17, the Jim Clark Weekend hosts an incredible line up of classic Formula One cars and sports cars on display. Triple Formula One Champion, Sir Jackie Stewart makes a guest appearance on Sunday, too.
Big Five at Lochaber
The Wild Lochaber festival starts on Saturday, May 16, for two weeks of nature-focused events and activities. A definite highlight is the Big Five Safari on Wednesday, May 20, which takes explorers on a search for Scotland's five iconic wild animals – the red squirrel, the red deer, the harbour seal, the otter and the golden eagle.
Cat's Chorus
On Tuesday, May 19, a choral ensemble that has performed for the Queen and President Obama will pay musical homage to the world's most famous cat, Towser of Glenturret distillery. The Yale Alley Cats will perform in front of Towser's statue at 2pm. Free entry.
Folk Fest
Join some of Glasgow's best musicians for a fun day of Folk music workshops and performance in Pollok Country Park. The first of its kind in Glasgow's Southside Fringe Festival, the event will see workshops on a wide variety of vocal and instrumental traditions on Sunday, May 17. Book here.
Montrose at War
The UK's first military air station, Montrose, is hosting a free open-doors weekend (May 15, 16, 17) with an exhibition revealing a top secret wartime link between Scotland and Soviet Russia. Vintage cars and aircraft will be on display, and visitors can even have their picture taken in a Spitfire!
Mountain Talks
The Arran Mountain Festival is in full swing and after you've had your fill of hiking, scrambling, climbing and rambling, they have the perfect way to rest your limbs. On Saturday, May 16, there's a Mountain Talks Night with a lasagne supper and fascinating talks from John Murray and Alan Rowan.
Games at Gordon Castle
The 2015 Gordon Castle Highland Games and Country Fair is on Sunday, May 17 with the usual tug-o-war, hammer-throwing, caber tossing, track and field events, highland dance competitions and piping – plus a fire stunt spectacular thrown in for good measure! The Country Fair's food court includes stalls, samples and demonstrations to top off this great day out.