Ten Things You Cannae Miss… May 29 – June 4
---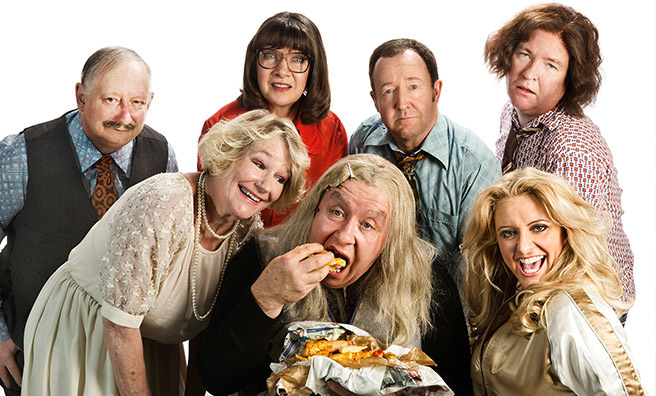 Our team have swept the length and breadth of Scotland to find you the most vibrant, most unusual and most unmissable events on offer this weekend, and in the coming week . . .
Butterflies in Blue
A new solo exhibition by Jenny Matthews at the Smithy Gallery in Blanefield opens Sunday, May 31, featuring new works in watercolour – many inspired by her Edinburgh garden. You may even bump into Ian Rankin there – the brooding crime writer is a big fan of Jenny's work.
Weirfest!
Saturday, May 30, sees the very first Weirfest come to the shores of Loch Lomond so get your red toorie hats at the ready! Musical entertainment is provided by the Lomond Ukulele Orchestra amongst many others, and activities include cooking and woodcraft demonstrations, plus treasure trails and guided walks.
Yer Granny!
Gregor Fisher stars in this riotous new comedy coming to Glasgow King's Theatre until Saturday, May 30, and in Edinburgh King's from Tuesday, June 2. Watch the diabolical 100-year-old granny literally eat her family out of house and home as they prepare for the Queen's Jubilee visit.
Orcadian Wines
From Weirfest to Winefest! The week-long Orkney Fine Wine Festival begins on Saturday May 30, and the highlight is definitely the Festival Wine Fair in Kirkwall Town Hall on Wednesday, June 3. £15 on the door (or £10 in advance) to sample to your heart's content.
Flower Gazing

Gardening Scotland, the biggest plant fair the country is taking place from Friday, May 29 – Sunday, 31. It promises a spectacular array of beautiful plants to dazzle the senses, and also all the tools, equipment, garden furniture and inspiration you could need to make your garden grow.
Science On Show
The Glasgow Science Festival held its launch party on Thursday, May 28, but things really kick off on Thursday, June 4, when the Glasgow Science Centre opens its doors to meet the experts and explore the science behind the lives we lead today in three floors of exhibits and activities.
Gaither in the Borders
The place to be this weekend for the musically-minded is the Border Gaitherin, with a host of workshops, concerts, sessions, ceilidhs, sing-a-rounds, harmony singing and Open Stage performance opportunities. It runs Friday, May 29 – Sunday, May 31 and a full programme can be found, here.
Bake Off Taster
Aberdeen City Libraries and North East Scotland College will be cooking up a series of taster sessions in libraries and community locations across the city this summer, and it all kicks off on Tuesday, June 2, with a demonstration from the Great British Bake Off's Norman Calder. Booking essential – email here.
Death, Love and Dog-walking
Fresh off the Glasgow International Comedy Festival, Gary Little is coming to the Gardyne Theatre in Dundee on Saturday, May 30. His unflinchingly honest stand-up about death, love and dog-walking was a sell-out in Glasgow, and is definitely not to be missed!
Summer Concert
Join the Scottish Chamber Orchestra in Kilmarnock for a summer evening concert under the baton of acclaimed conductor James Lowe on Sunday, May 31. The night will include Schubert's Symphony No 3 and many more beautifully arranged pieces from Dvořák, Mendelssohn and Bartók.