The Big Burns Supper!
---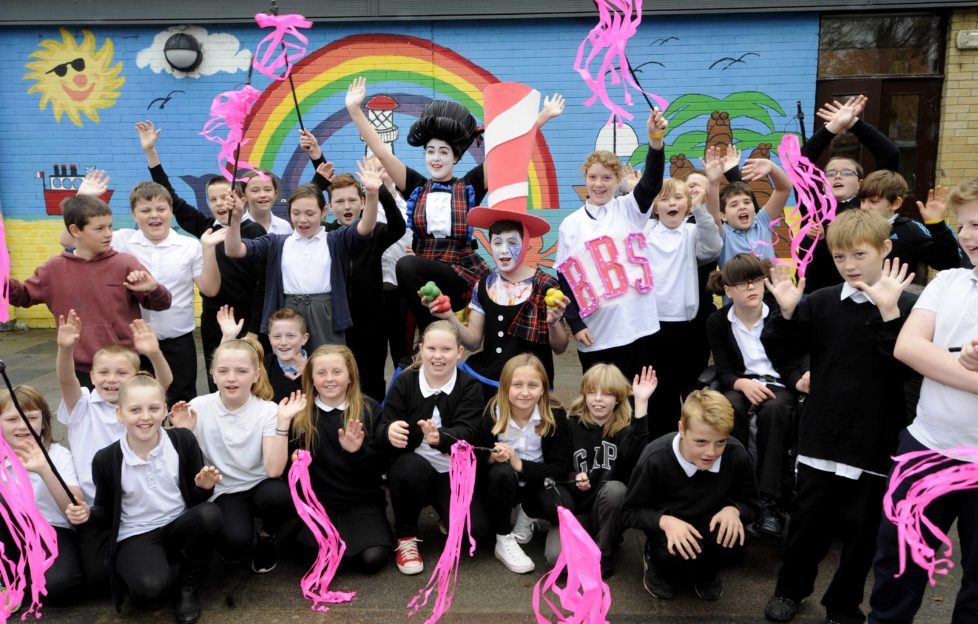 FREE PICTURE: Big Burns Supper 2016 Launch, 05/11/2015: As the line-up for this year's Big Burns Supper festival (in Dumfries, Scotland) is announced - with headliners Jason Byrne, Eddi Reader, The Beat and Black Grape - youngsters from Lochside primary school, Dunfries, get into the carnival mood with festival performers Jack Finlay and Nadia Ali. 2016's programme has strong emphasis on children's entertainment with the arrival of Celtic Circus, a Spiegeltent show with acrobatic thrills and spills to delight a younger audience. The Robbie Burns themed nine-day festival bursts onto the scene on 22nd January 2016, and features a street carnival around Dumfries on Sunday 24th January 2016. More information from: Matthew Shelley - PR consultant for Big Burns Supper - 07786 704 299 - MJHShelley@hotmail.co.uk Photography for Big Burns Supper from: Colin Hattersley Photography - www.colinhattersley.com - colinhattersley@btinternet.com - 07974 957 388.
Dumfries is rustling up its annual Burns Night festival – and it keeps getting bigger and better!
The fifth Big Burns Supper festival takes place from January 22 to 30 for nine days of music, comedy, cabaret and carnival atmosphere.
Performance acts include Eddi Reader, comedian Jason Byrne, Irish folk band The Dublin Legends, and the newly-reformed Bay City Rollers, who'll be donning their tartan trews once again for the occasion.
"We're absolutely ecstatic to be welcoming the Les McKeown and the Bay City Rollers to Dumfries," said The Big Burns Supper (BBS) Artistic Director, Graham Main. "It's our festival's fifth birthday and we thought it would be great celebrate with a bit of Rollermania."
BBS is dedicated to celebrating Scotland's bard in a truly unique way – traditional ceilidhs and suppers are included in the line-up of course, but they sit alongside more alternative and progressive performances, too.
The Treacherous Orchestra, an electrifying, instrumental 11-piece, play the Speigletent on Thursday, January 28, following cutting-edge comedian, Andrew Maxwell, on Wednesday 27 – your chance to win tickets below.
There will also be a welcome return for Le Haggis: The Third, the saucy Scottish themed cabaret, fresh from an award-winning run on the Edinburgh fringe and featuring Scottish and international circus acts and aerial dance accompanied by some of the country's best young trad and folk musicians.
Burns Day Parade
A definite highlight of the festival is the carnival on Sunday, 24 January, which expected to feature around 4,500 lanterns and hundreds of costumed performers, plus floats, bands and spectacular fireworks.
The theme for this year is Musical Revolutions, celebrating music from many different eras – from 1920s flapper girls right through to futuristic DJs. Local primary schools are also getting in on the act, with kids from 16 local schools performing in the parade.
"We want Big Burns Supper 2016 to be huge fun for everyone. It will be packed with great music, comedy and cabaret plus a fabulously colourful street carnival."
"As one of Scotland's fastest-growing winter events we are looking forward to welcoming thousands of people from all across Scotland, the rest of the UK, Ireland and beyond for an event which celebrates all that's best in life."
The nine-day event promises to bring Burns into the 21st century, with something for all tastes and ages.
Click here for the full line-up.