The Howlat Takes Flight!
---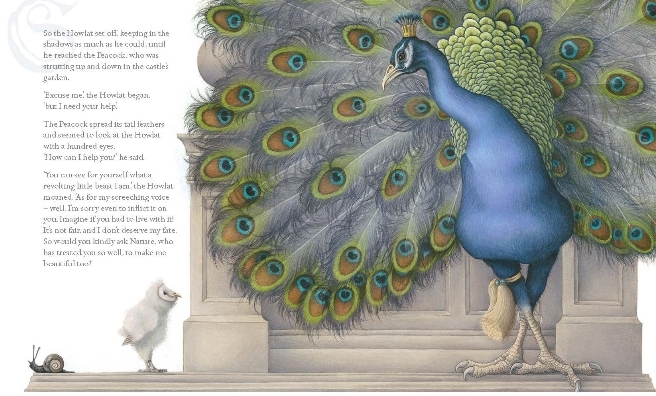 The pages of The Howlat are a work of art.
The official launch of James Robertson's new children's book, The Buke of The Howlat, in Moray this week provided The Scots Mag with an excellent excuse for a jaunt to Darnaway Castle.
"This grand hall with its majestic beamed ceiling was where the original, 14th century version of The Howlat was first read aloud," revealed Jim Royan, the Elgin businessman who, with his wife Jean, was instrumental in ensuring publication of the 21st century version of The Howlat, which features in the September issue of The Scots Magazine.
Unner the shade o a holly tree, ae doon-hertit and dowie burd wis coorying: a wee owl, kent by aebody as the Howlat.
"This hall is where Richard Holland first read his poem in Old Scots about an unattractive wee bird to The Earl of Moray so it is only fitting that the man who accepted the challenge of turning Nicola Royan of the Scottish Text Society's modern translation of the full poem into an irresistible read for children of all ages read his version here today."
However, rather than read his own words, James Robertson had the assistance of four local school children, who took it in turns to expertly narrate short excerpts from the English and the Scots Language versions of The Howlat.
"Oh how is it that I'm sae ill-faured and ugsome? Whit wey are my feathers sae oossie and pookit and ma neb bent like an auld heuk?"
"It's wonderful to be bringing olur old culture right up to date in a place of such magnificent relevance," said James.
James and the school children were joined on stage by Kate Leiper, who is one of Scotland's top illustrators and was brought up in nearby Lossiemouth. Kate explained her book illustrating process to the audience in the hall, including the research she carried out into the stages a young owl goes through while growing into an adult.
"It's no their faut I'm sic a scunner! It's Nature's faut for makkin me a howlat."
"The Howlat is physically changing throughout the book but we needed to show he was the same bird despite his different appearances – so I gave him a garter on his leg to ensure he's always identifiable," revealed Kate.
Following James and Kate's informal chats, Lord Moray, who lives in Darnaway Castle with his wife and their young family, brought the proceedings to a close. "James and Kate's work is fantastic," said Lord Moray. "The Howlat is destined to become a children's classic."
---
The Howlat
The Buke of The Howlat / The Book of the Howlat by James Robertson, illustrated by Kate Leiper, is published by Birlinn on September 22, £12.99.