Things You Cannae Miss at Piping Live! 2015
---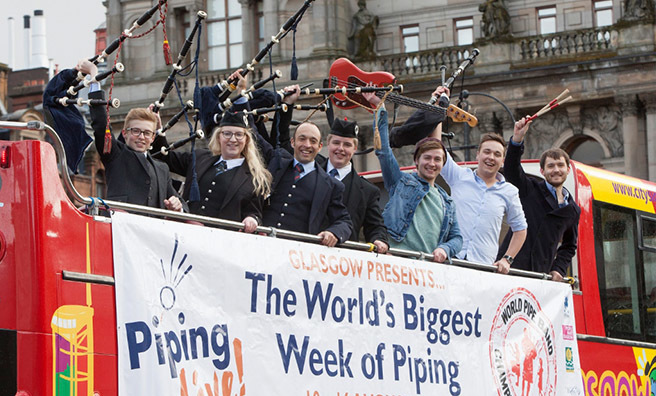 Get ready for the world's biggest week of piping, with all eyes on Glasgow for the International Festival, Piping Live!
50,000 music fans, families and tourists are estimated to be travelling to Glasgow to enjoy the 200 events and 8,000 performers that make up the The World Pipe Band Championships and associated festival, taking place 10-16 August.
After a two-year absence, the festival returns to George Square where musicians will be performing and competing daily.
Some of the highlights . . .
As well as the annual Pipe Idol competition and International Quartets competition there will also be special concerts between Thursday, August 13, and Sunday, August 16, featuring unique and never seen-before collaborations.
On Thursday night there will be an evening of International Duets at the Art School, bringing you some of today's greatest pairings, while the Friday night concert features some of the most exciting and modern collaborations on the folk/piping scene from the Scott Wood Band and The Armagh Pipers Club.
The After Worlds Shindig on Saturday night is the closing concert after two days of fantastic competition, and it celebrates in style with Fred Morrison, Irish band, Flook, and French piper, Patrick Molard.
And to top it all off, the Tannahill Weavers will be celebrating their 40 years of piping on Sunday night in a phenomenal concert with very special guests.
Don't miss the Pipers Market!
A new and exciting addition for the 2015 Piping Live! is the Pipers Market especially for Scotland's Year of Food and Drink.
It takes the form of a veritable smorgasbord of locally sourced food from Scottish producers, and will be taking pride of place at the main festival hub in George Square from Monday, August 10, until Friday, 14.
Supported by the Community Food Fund, the market marquee will be open from 11am every day.
The market will also include the Piping Live! Information stand and shop, as well as a live bagpipe making demonstration.
Tickets for Piping Live! and The Worlds are on sale now and available by calling 08444 77 1000, or by clicking here.