Tom Weir | Six Weeks To Safety Part 2
---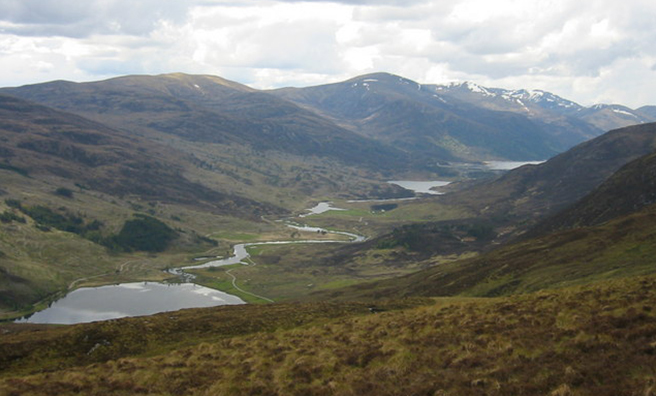 Part Two of Tom's journey following Bonnie Prince Charlie's trail at Glen Cannich, looking at some of the more puzzling aspects of those extraordinary months.
On that day of troop movements, three of Charlie's party of 10 were out reconnoitring the way ahead, one scout reporting that Glen Garry was clear, while two of the Glen Moriston men went on a longer journey to Loch Arkaigside to make contact with an important man, Cameron of Clunes.
Now the party moved by Loch Loyne down to the swollen River Gam, forded it with difficulty, then climbed to spend an uncomfortable night—on the hill in the rain without cover.
No wonder Prince Charlie gets an honourable mention in the annals of Scottish Mountaineering, for not only was his undoubted stamina being tested, but so was his stomach, for once again it was empty.
So without breakfast, wet and hungry, they moved on next day to meet up with their Loch Arkaig scouts who had a message from Cameron telling them to go to a certain place where he would meet them on the following day, almost certainly at the cave in the wood above Glen Cia-aig whose notable waterfall is near the end of the Dark Mile.
There they were to have a welcome feast of venison, by shooting a big red stag when they most needed it, and that night they were to have the company of other outlaws, MacDonald of Lochgarry and Captain MacRaw, plus one other.
"Show me a King or Prince in Europe who could have borne the like, or the tenth part of it."
Joined by Cameron of Clunes they moved to the foot of Loch Arkaig and three days later, on 20th August, were joined by Dr Cameron and the Rev. John Cameron who arrived with Locheil's apology for sending his brother, the doctor, instead of coming in person.
Next day, the Prince, disguised as Captain Drummond, was introduced to the two French officers from Pool ewe on their way back from meeting Locheil, but their despatches contained nothing of current value.
They went on their way westwards.
Any feeling of being safe here in the Dark Mile was shattered when troops of Louden's regiment searching for fugitives forced a retreat northward to the top of the hill called Meall an Tagraidh on a soaking night, to spend the next two nights in remote Glen Kingie.
It was time to clear out of here, and on the 27th, Lochgarry and Dr Cameron were ready to guide the Prince to Locheil, which meant saving farewell to the Seven Men of Glen Moriston who were now eight, one Hugh MacMillan having joined them on the march to Glen Cannich.
These devoted men had stayed with the Prince for over three weeks, parting from him only when they were sure he was in good hands.
Farewells were sad, the Prince making them a token gift of 24 guineas and promising fervently never to forget them when he came into his own.
The night of 28th August saw the Prince's party starting their 30 mile journey across the Great Glen for the headwaters of the Spey to climb over the shoulder of Creag Meaghaidh and down to Loch Laggan for Ben Alder.
They moved briskly, for the significant part of the walk was done in two hard nights, with very little food and cat-naps instead of normal sleep.
Praising the Prince, Lochgarry exclaimed, "Show me a King or Prince in Europe who could have borne the like, or the tenth part of it."
---
More!
Read more from Tom!
We have an extensive archive of Tom Weir's great columns for The Scots Magazine, and we're slowly but surely getting them published digitally for new generations to enjoy.
To see the columns we have online so far, click here.