Tom Weir | The Wonder of Wildlife
---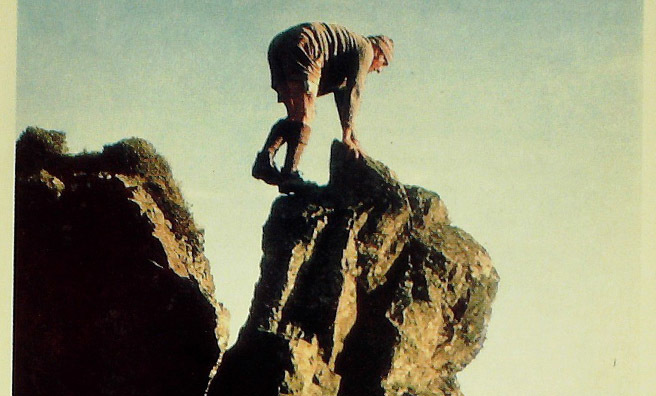 Regular­ readers of mine will know that I take a walk every morning, and recently I've been taking a female companion along— little Nell, a young semi-collie who gives me many a smile, especially when she sits below trees nearly wagging her tail off as she watches squirrels doing acrobatics high above her head, hoping, no doubt, that one will fall off!
In 20 years of living on Loch Lomondside I've never known grey squirrels so numerous as they are now. Nell is fascinated by them, but they gave her more than one surprise recently.
The first was when the squirrel she was barking at began yapping at her, jerking its tail and, with springy little rushes, descending within snapping range of the surprised collie which backed a yard. The squirrel then leapt into the undergrowth and shot easily through a tangle of brambles, leaving Nell well behind.
Five minutes farther on we had a repeat performance—perhaps it was the same squirrel. There it was, on top of a small hawthorn and down it came to the barking dog. This time Nell didn't retreat. She leapt at the squirrel as it hit the ground, missed, but in 20 yards had rolled it over and almost had a grip when the squirrel twisted free and somehow found itself on the dog's back, clinging like a jockey as Nell hunted back and fore looking for the missing prey!
Suddenly it dawned on her. She shook herself and the squirrel raced off, made a flying leap for a tree trunk and was soon skipping from branch to branch in a good imitation of a gibbon monkey.
Normally it is rabbits which occupy Nell's thoughts when she is out with me. And she has demonstrated to me something of which I was unaware, namely that rabbits, even young ones, will feign death by going limp when in a dog's mouth. In Nell's case they have lain until she turned away, then bolted to safety with a turn of speed that showed they had been biding their time.
Hares That Swim?
A few days later, I was standing with a birdwatcher I had met and we were looking at a sandspit, always a favourite for waders and duck, when we noticed two brown hares going through all the motions of courtship, sniffing each other, stopping suddenly, turning to face each other, sitting up with whiskers twitching, then moving on.
In this case the surprise was to find them taking to the water when they reached the end of the sandspit. They swam for the shore, their legs not touching the bottom, and we were impressed by how much they seemed at home in it. Neither of us had seen hares do such a thing before, so I had a look at my books to see if we had witnessed something unique. Not so, the hare is known to swim well, though usually only in an emergency.
Now came a phone call from my friend Pat, who had been unwell but was now eager for an outing. "There's a remote loch in Perthshire I want to visit. It's too far to go alone, and although I've never been there I think it could be interesting. There might be black-throated divers. How about it?"
There was no need for persuasion.
Parking the car in sight of the sharp peak of Schiehallion and Beinn A' Ghlo—it's as close to a clue as I'm giving on location—we had a tune on the chanter from Pat and a cup of coffee from the flask before heading into the heathery hills with bobbing wheatears and innumerable mountain hares for company.
I loved every moment of it – especially when we climbed to a rocky ridge with a flying ring ouzel in sight, and below us the oval loch with its few ancient pines. Better still, the sun was managing to pierce through the clouds, making dry-stane walls shine grey and bringing a glow to the heather.
It was then Pat drew my attention to the thickened top of a distant pine where there was a white object on top that seemed to be moving. Keeping our height and approaching closer, we saw it was a bird with a white head and chest, and chocolate-brown back—a sitting osprey.
Sitting quietly, not wishing to disturb the bird by going nearer, we were rewarded when it rose from its tree-top eyrie and circled round it, a few powerful beats on long, broad wings, then a glide and a turn, sometimes lowering the long, naked shanks. After a few moments it went into a rapid descending glide to land in the heather beside a second osprey.
Watching them for half an hour, we were sure that the second bird was eating something held in its claws, and this was confirmed when it rose, a half-eaten fish slung like a torpedo below it, and made for the nest, where it stood for a bit, then flew away, still carrying the fish. As it disappeared, the bird which still sat in the heather rose and followed its mate.
There was another magic moment that day as we sat by the lochside: a brilliant wigeon drake in attendance on two ducks whistled past us at eye level, and immediately after, two mallard dropped into the water at our feet—our rewards for sitting still.
We saw no black-throated divers, but that does not prove they are not there. They could be. And there were other things, peewits, curlews and sandpipers, for instance, to compensate. The expedition finished with a lovely drive along sunny Loch Tayside.
"The best day I've had for a long, long time," said Pat, but we say that so often in early summer when the hills are alive with things to see.
It certainly was a long winter and a most reluctant spring right from the Borders to the Highlands as I saw when I journeyed from the Spey Valley to Selkirk for the annual dinner of the Border Hillwalking Club. On the Sunday in rain we took the path up the right-hand edge of the Grey Mare's Tail, an impressive waterfall at any time, but that day spectacular as it roared down white as a snowpatch.
Alas, we were in thick mist at the lip of the hanging corrie, and were glad of the reassurance of the adjacent burn to lead us to its source at Loch Skeen in its corrie at 1750 feet. Among the moraines edging the bum outlet from the ¾-mile-long loch we met three sodden hill-walkers who had steered a compass course round the horseshoe of tops from Lochcraig Head to White Coomb at 2600 feet.
They told us it was snowing hard up there, and we saw proof of it when there was a momentary clearing and the white tops loomed above us.
No doubt about it, this is the most Highland bit of country in the Southern Uplands, and the 200-ft. drop of the waterfall in its rocky setting is all the more impressive by its surprise. The wind and rain was certainly worthy of the Cairngorms as we dropped down, yet back in Moffat the sun was shining as we passed through on the drive home.
Climbing the Whangie
On my own doorstep on the side of a rolling moor we have a very odd rock fragment like an escape from the Cuillin Ridge of Skye—the Whangie. When a dull day cleared up to a perfect evening we set off from the summit of the Stockie Muir on the grassy track just over the wall from the indicator viewpoint above the big car park.
Colours were wonderfully rich on that evening of crisp visibility. Between the moors and green meadows lay island-studded Loch Lomond, silvering in the westering sun and backed by shapely peaks stretching from Cowal and the Arrochar Alps to the long skyline of the Perthshire giants. Yet the richest colours were on the nearby Campsies, where the pointed knobble of Dumgoyne, so much like Devil's Point in the Cairngorms, is flanked eastward by the grey rock escarp-ments of Slack Dhu rising sheer above the Blane Valley.
Readers have told me they could not find the Whangie. The explanation is that they have given up too soon, or possibly climbed left at the first junction of paths when they should keep right on the lower path. Most folk need 40 minutes to reach the Whangie, and there can be no disappointment when, round the hill shoulder, you see the pinnacles standing out from the hillside.
Bathed in sunshine that evening, the soaring crest was irresistible, and I was soon grappling up the outside edge to tread warily the cat-walk of its pinnacled top. Up there you have vertically below you on both sides, and it feels a good deal higher than 40 feet to the ground below. The Whangie is a freak, caused by one bit of the rock face being plucked from the parent mass by the action of glacier ice, forming a canyon.
It was here, and on the Campsies just across the Craigallian Braes, that I first began rock climbing as a lad, although I didn't realise then that the Campsies and the Kilpatricks were united before the glaciers carved out the Blane Valley.
Despite hundreds of days spent in these hills, there was one ravine I had never entered, Ballagan Glen, half a mile east of Strathblane, and I went to it on another fine afternoon.
First of all I should explain that in my young days it was jealously guarded and keepered. Now it is owned by the Scottish Wildlife Trust and is open to members and others with a genuine interest, but because access goes through private property permission should be sought before visiting.
Branching right on the drive led me to the big house, where I had a word with the owner, then over the stile and I was on a grassy alp in sound of the burn cascading down the deep ravine cleaving deeply into the hill. The easy way is to keep right up the shoulder, I preferred to go into the hanging wood, mainly ash, and clamber up the course of the burn.
It was delightful to find the place a hanging garden of green moss, ferns, saxifrage, bluebells, primroses, wood sorrel and mountain avens. And I had to do some rock- climbing to surmount the enormous boulders which jam the lower part among waterfalls. But the really exciting bit was the "spout"- a 70-ft. jet of white water flanked by a 130-ft. wall of crumbling rock—the famous Ballagan Beds.
I traversed out on a narrow ledge using the highest stunted ash trunks to help me to take a photograph. The ground here is very unstable, the grass edge sheering away to reveal layer upon layer of different coloured material which geologists call cement stones and "marls" in a transition from Upper Old Red Sandstone to Carboniferous, with volcanic lava intermingled—a remarkable mixture.
In there I had wood warblers for company, and climbing out above the waterfall into the open I could look over the ravine to the strath filled with sunlight. This country is full of memories for me, since it was within easy cycling di¬tance of my home in Springburn, and I could be high on the hill of a summer evening looking over to Ailsa Craig and the Arran Hills.
Wildlife Inheritance
Travelling north for a week in the Spey Valley I had the good luck to fall in with talented bird artist and ornithologist Douglas Weir beneath the rocky flank of Creag Dhubh where he has made his home. Tall, bearded, bespectacled and scholarly-looking, we first met about 15 years ago when he was taking a special interest in ospreys which were then beginning to expand their range in the Highlands.
Through the years since then Douglas has been a great force in the Study of birds of prey in the big country surrounding the Cairngorms where statistics are hard to come by, demanding a high output of foot poundage on the hills allied to real field craft. He was able to provide the RSPB with solid, hard evidence on the use of illegal baits being used to poison peregrines, buzzards, eagles and any other noble bird attracted to them. Experts working with him have told me of the high regard they hold for him.
He was immersed in his local studies when I met him, but was preparing to go off to Alaska to carry on with environmental studies lie does for mining companies, assessing how their massive operations affects the wildlife. It is no theoretical job, but hard, practical work gathering evidence and writing scientific papers which can be used as guidelines for the future.
Most people who speed through the Spey Valley on the busy A9 have little idea that some of the remotest country in Scotland lies on each side of them—the high Cairngorms to the south stretching across 4000-ft. Arctic-plateau country to Deeside, and to the north, the infinitely less well-known Monadhliath, lonely, featureless hills whose 3000-ft. expanses give rise to the River Findhorn and the numerous other streams discharging into the Great Glen. All this is wildlife country par-excellence in Britain, with its tundras and fragments of primeval forest belonging as much to Scandinavia as to Scotland.
It was to educate the public in their inheritance that Douglas Weir and three other local directors set up the Highland Wildlife Park in 260 acres of superb natural habitat overlooking the Spey and backed by ancient pines. I had never been in it. I didn't even know that Douglas was associated with it. Here was my chance to find out its object.
Firstly, it is not a zoo, more of a nature reserve, but one with a difference, for brought together here, some of the species unconfined, are many of the animals which you might have seen had you been here at the time of the Romans 2000 years ago: Caledonian bears, grey wolves, wild boars, reindeer and, going back more distantly, the noble European bison, the ibex, mouflon and Arctic fox.
It is not a place just to spend an hour. At £2.50 per car-load you need a half-day at least, nor is that enough if you are to extract a fraction of what is on offer, since here you can learn so much about the wildlife of these hills and woods past and present. There are eagles, snowy owls, wild-cats, pine-martens, badgers, otters, game birds—and an amazing amount of genuine wildlife from outside, ravens which scavenge for scraps of uneaten meat ; oyster- catchers, peewits, snipe, curlew and wheatears which nest in the open parkland where the main herd of red deer and other animals roam.
Reflect, when you look at the wolves, that the last one running wild in Scotland was killed in the Findhorn just two years before the Jacobite Rising of 1745. In the Highland Wildlife Park it is easy to feel that the landscape has not changed so drastically since ancient times. You cannot come away without a heightening regard for the birds and animals of our country.
---
More…
Read more from Tom!
We have an extensive archives of Tom Weir's great columns for The Scots Magazine, and we're slowly but surely getting them published digitally for new generations to enjoy.
To see the columns we have online so far, click here.