Tom Weir | To Wild Places (I)
---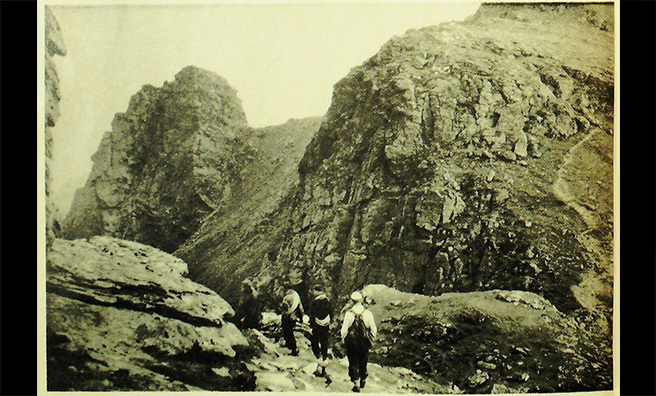 I WAS very sorry to miss a visit from my Lancashire friend Stan Bradshaw recently.
The note he had slipped through the door told his own story:
"Called at 10 a.m. on my way home, after climbing
my last tops in Glen Affric. Wonderful days! Left
Alltbeithe at 6 p.m. and got to the top of Sgurr nan
Ceathreamhnan at 8.30 p.m. Watched the sunset
about 10 p.m. and the new moon set at 1 a.m.
Bivvied right down on the summit.
"Rising sun awoke me at 4 a.m. Set off and did the
nine tops and back at Alltbeithe at 11 a.m. Good meal.
Slept outside until 4 p.m. Climbed 32 tops this time,
22 to go. Will be up again soon, Knoydart this time,
maybe see you then. Trust you and your wife are both
well and enjoying life as we are."
That peak with the difficult spelling—it's usually pronounced Keranan—is the fourth highest north of the Great Glen, and in my mind's eye I could see the wee man tracing and retracing his steps on the complicated ridges of this massive mountain with its inconveniently placed tops.
I didn't see him walking like me, for Stan is a noted fell runner and at 68 years of age is the youngest old man I know.
I wrote about him when I met him on the Cuillin.
At 63 he wondered if he was the oldest man who had ever done the main ridge in a day, involving 10,000 ft. of ascent and eight miles of intermittent rock scrambling, some of it very serious.
An "Old Men's Expedition"
Curiously enough when I got Stan's note on his latest ploy I had just been out with a climber who had celebrated his 70th birthday by doing the same ridge.
He was Charles Warren who in pre-war days had been on Everest in the early attempts on the mountain.
Charles and I had climbed what was a new Munro for me, Mullach Fraoch-Choire, 3614 ft., which looks directly across to Sgurr nan Ceathreamhnan.
There was an even greater coincidence, for another friend, John, who is coming up to 73, wanted to celebrate his birthday by climbing The Cobbler, so since it was to be an old men's expedition I invited my friend Pat Sandeman along as well to share the fun.
Off we went on a morning of such warm sun that I was glad of khaki drill shorts on a day of high promise with old man Cobbler, softened by heat haze, looking down benignly on a limpid Loch Long.
It was four years since I had been up on its rock prongs, and I had forgotten what a lovely approach it has by the Buttermilk Burn on a path rising swiftly past a succession of waterfalls shaded by rowans and birches, each rock pool an invitation to dip in its green depths.
Then you are into spruce forest, following a steep ride to the plantation edge where suddenly the angle eases and the full splendour of the open corrie lies ahead, the jagged Cobbler to the left, and the bouldery Narnain to the right.
John and Pat, who had never been here before, were fumbling with their cameras at the vision of wildness bursting on them so soon.
Warm sun, cool breeze, drifting cloud shadows, it was perfection, and underfoot everything was dry after weeks of fine weather.
Read the second part of Tom Weir's To Wild Places feature next Friday!
---
More!
Read more from Tom!
We have an extensive archive of Tom Weir's great columns for The Scots Magazine, and we're slowly but surely getting them published digitally for new generations to enjoy.
To see the columns we have online so far, click here.