Tom Weir | Walking Points | 2
---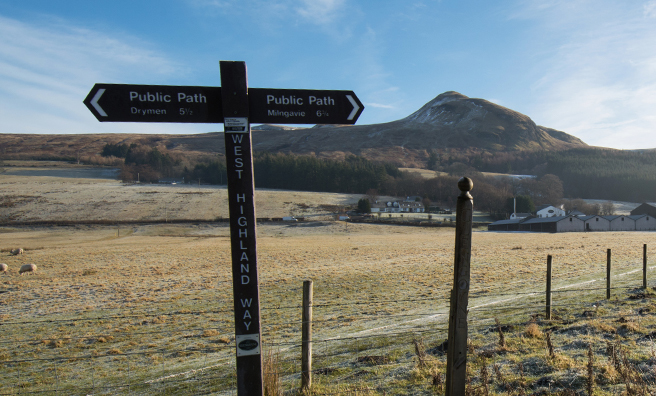 AFTER its grand opening, Tom Weir was one of the first to walk the West Highland Way
Read Part One on the Opening Ceremony, here.
As you approach the head of the loch, route-finding becomes more tricky when you turn away from the shore to go over a little pass above the house of Ardleish.
The path is west of the burn, on the climb to the Dubh Lochan, for the sudden opening of the northward view to the Ben Lui massif and the trench of Glen Falloch where you are heading.
I must say I found the signposting around Benglas Farm a bit off, and have suggested some simplification to the Countryside Ranger appointed to patrol the route.
Our problem that day was to get back to base on the east shore of the loch without retracing our steps in the dark. We did it by seeking the help of a friend who, on receiving our phone call came up in his wee fibre-glass boat, arriving at Ardlui in the same time as it took us to have tea and walk from Inverarnan Hotel to the pier.
Until then we were dry except for wet feet, but so stormy was the loch that we were drenched with spray and soaked to the skin by the time we got back to our car at Inversnaid. Such is the wav of stormy Loch Lomond.
Finding One's Own Path
Readers with long memories may remember the article I wrote in the March 1975 issue about the proposed West Highland Way, published shortly after the Secretary of State had given his approval.
I had written it shortly after receiving a copy of the Countryside Commission for Scotland's detailed report, 68 pages of it, with maps of the proposed route.
Little did I know that I had written what was to become virtually an interim short guide to the West Highland Way. I received a spate of letters from people wanting to walk the route before it would become a pedestrian M8.
In the article, I wrote about using one's imagination and not waiting for the Countryside Commission to show the way, when paths already existed for backpackers who know how to look after themselves.
I regard it as vital to retain the wild in wilderness by keeping to a minimum signposts, stiles, bridges and path- building slabs and sleepers.
On Loch Lomond, the Countryside Commission have the balance about right, and I have praised them for it, but good friends tell me there are far too many signposts where they should not be on the old Glencoe road and Devil's Staircase area where you could hardly go wrong.
Catch the next excerpt next Friday!
---
More From Tom…
We have an extensive archive of Tom Weir's great columns for The Scots Magazine, and we're slowly but surely getting them published digitally for new generations to enjoy.
To see the columns we have online so far, click here.