Tom Weir | Walking Points | 3
---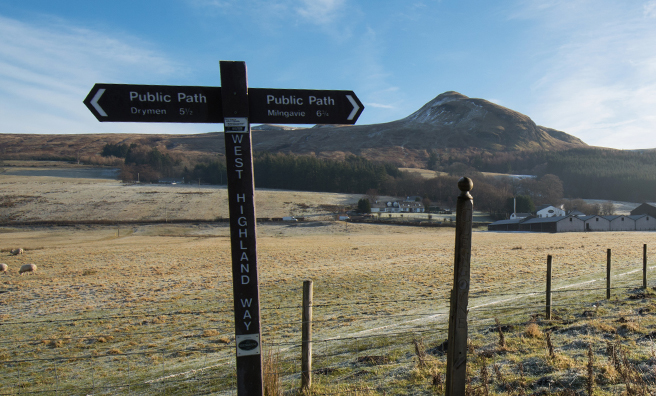 Sign up to our Weekly newsletter
Part 3 of Tom's 1980 article on the West Highland Way's opening
Read Part One on the Opening Ceremony, here.
One of the little perks I got that day was a free copy of the Official Guide and separate map, which together sell at £4.7.5.
This is something of a bargain considering that the single-sheet map, printed on both sides of the paper, is on the scale of 1:50,000 and covers the whole ground from Fort William to Milngavie which would normally need four maps at £1.50 each.
As for the Guide itself, it is a 174-page production, with numerous sketches and fine photographs by Donald Bennett, in soft plastic covered material for easy carriage in a rucksack.
No doubt the word " Official " map and guidebook is to distinguish it from such " rogue " publications as may follow, and the one published last year by rambler Tom Hunter, a Constable Guide to the West Highland Way written before the final details of the route were made known.
I met Tom in the marquee, and he told me his Guide is practically sold out, good going in less than two years, which shows how eagerly walkers were waiting to do the route. He told me he thought it unlikely that his book would be reprinted, but buyers of it at £3.50 should not feel cheated for it covers the ground well, despite being not quite up-to-date.
One special person who lives on the other side of the world, in New Zealand, will be very pleased to get a copy of the Countryside Commission Guide, a geographer by the name of Fiona Rose, who, ten years ago was given the task of surveying the route in order to prepare the Report to put before the Secretary of State. Fiona, it is reckoned, walked the best part of a thousand miles.
Work is already under way on two more long distance paths from Aviemore to the Moray Firth and from Portpatrick in the west across by the River Tweed to the Berwickshire coast at Cockburnspath, 60 miles and 204 miles respectively.
These two paths which open up new ways for walkers are worth the expense more than well-known old favourites like the paths spanning the Blane Valley and Loch Lomond into the wilds of Perthshire, Rannoch and Lochaber.
I am very jealous of the old ways made by the feet of the clansmen, and resent them vanishing under the bulldozers for forestry operations or Land-Rover tracks to make deer-stalking and grouse- shooting easier.
Even rights-of-way have no protection. The wilderness shrinks all the time. In the Ben Alder region f was amazed to see vehicle tracks where none had been before, and in Glen Pean and Glen Dessary in Knoydart, forestry roads are pushing west, not to mention one that goes up to a new shooting lodge north to Corryhully from the Jacobite Monument at Glenfinnan.
Catch the next excerpt next Friday!
Sign up to our Weekly newsletter