Finishing Touches Unveiled At Tom Weir's Rest
---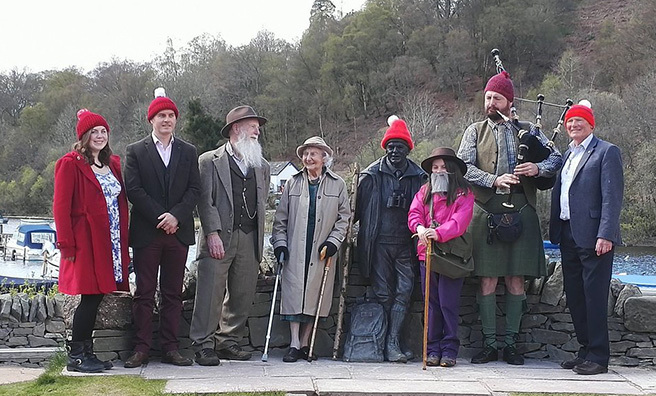 On Saturday the final additions to the Tom Weir site in Balmaha were opened to the public
A fifth storyboard and Mountain Garden organised by the Friends of Loch Lomond and The Trossachs complete the site in Balmaha, Loch Lomond, to commemorate Tom, who many remember from his TV series Weir's Way, and long-running column in The Scots Magazine.
A procession was led by piper Duncan MacKinnon from The Oak Tree Inn to Tom's Rest for speeches by organiser James Fraser, John Muir impersonator Lee Stetson, Tom's widow Rhona, and The Scots Magazine editor, Robert Wight, who unveiled slates bearing quotations from Tom's columns in the magazine.
These quotes (taken from My Loch Lomond, July 1976, and The Walkers' Wonderland, August 1976) had been beautifully engraved onto the slate slabs by apprentice stonemason Lara Townsend, who took also part in the opening procession.
The event marks the completion of the £130,000 transformation of the former picnic site, where the statue of Tom was unveiled last year.
Susan Taylor, Administrator of the Tom Weir Memorial Group, said it was "the culmination of many years of hard work fundraising by lots of volunteers …who are passionate about Tom Weir's contribution to popularising Scotland's great outdoors for everyone to enjoy and appreciate."
From One Mountain Man To Another
After the unveiling Lee Stetson stepped up by Tom's statue to regale us with a tale of John Muir, who was a source of great inspiration to Tom. Although the two never met – John died just days before Tom was born – the mountain men had very similar ideals, and spent their lives promoting the enjoyment and preservation of nature.
Lee had stopped in at Balmaha on his tour of the John Muir Way – organised as part of the centenary celebration of the US National Parks Service. This tour, which visits the Kelpies on May 4 and runs until May 15, celebrates the life and beliefs of the great conservationist and father of National Parks.
The Friends of Loch Lomond and The Trossachs hope both men would have been pleased with the Mountain Garden, which features a range of native mountain plants like juniper, wild thyme, fern and a whopping 1,200 heathers of different varieties and colours to reflect the four seasons on Scotland's mountains.
Tom Weir's Rest and nearby visitor centre aim to continue the inspiration Tom Weir instilled in his readers and viewers to enjoy and look after Scotland's great outdoors.
Click the links below to read the engraved quotes as they first appeared in our magazine in the 1976.