A Tourbus With A View
---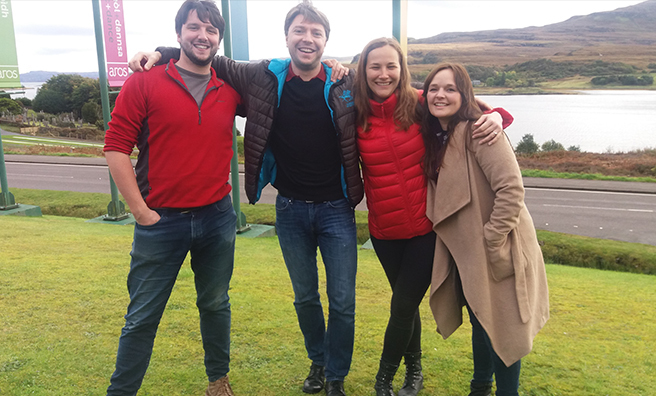 Opera Highlights Music Director Liz Rowe reflects
on the first week on the road with Scottish Opera
I can't believe it's the end of our first full week of touring, and we've already been to so many places and seen so many stunning views.
We had a spectacular journey from Glasgow to Mallaig, driving through Glencoe just as the sun came out, and catching dramatic glimpses of Ben Nevis from Fort William. By the time we got to Mallaig the sky was completely blue, and we caught a wonderful sunset setting off the beautiful scenery brilliantly.
A Morning Swim
On the morning of our show in Arisaig, some of us had time for a walk along the coast before the rehearsal and we were lucky enough to see Minke Whales, porpoises and seals. William Morgan (our tenor) bravely went swimming and two of the seals came up to him to investigate, perhaps to find out what he was doing in their waters! The show that evening in Arisaig's lovely village hall for a lively audience was great fun.
On Wednesday, we took the ferry from Mallaig to Skye and saw porpoises again. I am also a keen birdwatcher, so I was also very excited to see so much birdlife from the boat. We had a wonderful trip across Skye to Plockton and even managed to have time to squeeze in a distillery tour at Talisker. Needless to say, we came away armed with several bottles for post-performance enjoyment!
All this makes it sound as if we haven't done any work at all, but in fact we do rehearse before every show!
Rob Coupe, our Company Stage Manager, works really hard in every town to set up the stage, scenery, lights and costumes in time for our rehearsal. Part of my job as Music Director means I need to take the singers through their paces at every venue to ensure we keep the show as slick as possible, maintain a really high standard throughout the tour and also acclimatise to the inevitably very different acoustics in each venue.
The Diva of the Show
I also play the piano – and do my best to sound like at an orchestra – for all the shows.
Talking of the piano, we bring our own piano with us on tour to all the venues. It's amazing to watch Malcolm Smith, who single-handedly manoeuvres our Yamaha upright piano from his van into the venues. The piano van has a considerable number of 'piano creature comforts' including a special humidified mat and temperature controlled environment to ensure the instrument is looked after to the highest degree possible, and doesn't suffer in transit.
The transport for us is pretty comfortable too! Rob drives us everywhere in a very spacious minibus. Our mascot (knitted by Kate Howden) is a little unicorn we have named Brian who hangs from the rear view mirror. The van is adorned with massive posters of the Opera Highlights Tour on the side, so you can't miss us. If you see us around; give us a wave!
I can't wait for more wonderful scenery, wildlife and
music-making on this exciting tour!
---
More!
For the full tour dates 

click

here

, and for more cast blogs

click

here

!