Trick Or Treat? Pumpkin Recipe
---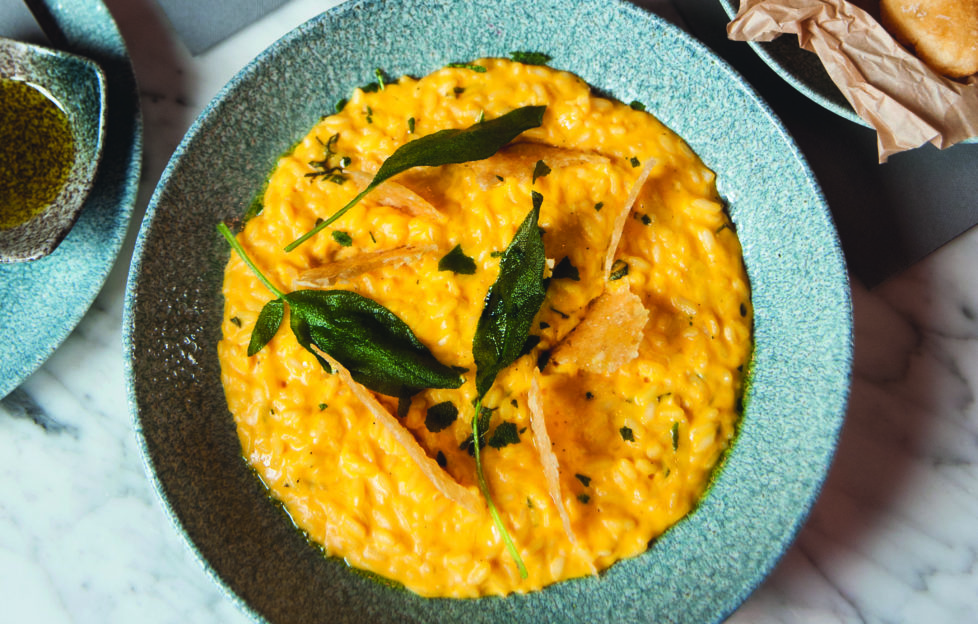 Ingredients
Butter
Extra virgin olive oil
1 shallot, grated
400g vialone nano risotto rice
Glug of white inw
200g chopped pumpkin, skin removed
2 litres of hot vegetable or chicken stock
125g taleggio
handful of grated Parmigiano Reggiano
seasoning
Method
Add a knob of butter and the same amount of olive oil to a heavy-based casserole pot, and fry the grated shallot until soft and golden.
Add the risotto rice, and toast for a minute or so. Keep moving the rice to ensure it doesnt stick or burn.
Add the white wine and cook off, then add the pumpkin and lower the heat.
Season with a little salt and a ladle of the hot stock, stirring as it cooks off.
For the next 30 minutes or so, continue to add the stock ladle by ladle, ensuring it cooks off between additions.
The rice should be creamy – quite sticky but as wet as good porridge. When it is al dente with a slight bite, remove from the heat.
Add the taleggio and a handful of grated Parmigiano. The cheese can be quite salty so check the seasoning.
Stir in a lump of unsalted butter, and allow to rest for 5 minutes before serving.
Credit: Carina Contini
Hallowe'en is about making memories, says Carina Contini – and delicious food! 
MY children love Hallowe'en. I'm not sure if it's to do with the scary witches, ghouls and trick or treating – or the fact that October 31 in our house signals permission to start talking about Christmas.
We all need things to look forward to, but dates like Hallowe'en and Easter are such markers for our memories. The pressure as my children get older is to create memories that can compete or at least stick out as an occasion. When they were little, a scary mask and a witch's hat from the pound shop, with a few bags of sweets and a makeshift bucket, was the bee's knees.
As the teens have kicked in, it's all a lot more "gothic". I've been scared by my own children's gruesome scars and face paints, all carefully constructed with help from YouTube videos. These are images I'd rather forget as quickly as possible.
This year my youngest reminded me in July that Hallowe'en landed on a weekday. Disaster! How can you arrange a sleepover on a school night? The solution is that we're going to double up with Bonfire Night on the Sunday and bring a bit of "treat" – and less of the ugly – back into Hallowe'en.
Stocked for Winter
Our kitchen garden needed some urgent maintenance over the summer. There were some overgrown conifers that were causing major damage to a small boundary wall. A tree man from Loanhead, brought down the trees and a builder from Dalkeith brought down the wall. The trees have been cut and are ready for the winter's log fires. The wall, luckily, was built of beautiful bricks from The Newbattle Brickworks, which opened in 1862, around the time our house had one of its first Victorian alterations.
Rather than sending the bricks to the tip, we salvaged them and turn them into a lovely new fire pit. What a treat it is: ideal for cuddling up on warm summer nights – we're hoping 2018 brings lots of those – and perfect for a miniature Guy Fawkes bonfire.
Around our little campfire we'll enjoy sausages and baby meatball kebabs; followed by sweetcorn baked in foil in the ashes. And, for the foodies looking for an extra filler, a delicious bowl of pumpkin risotto.
Now Hallowe'en wouldn't be Hallowe'en without some treats on the menu! Baked bananas with amarena cherries, 70% cocoa solids and a few flaked almonds to look like zombie teeth. And toasted marshmallow, of course with a bowl of hot devil's blood for dipping – hot chocolate sauce to you and me. Hopefully lots of new happy Hallowe'en memories for my fearsome teenagers to treasure.

You can find more delicious recipes from Carina here and discover a new one each month in

 The Scots Magazine