Slow-cooked Borders Beef
---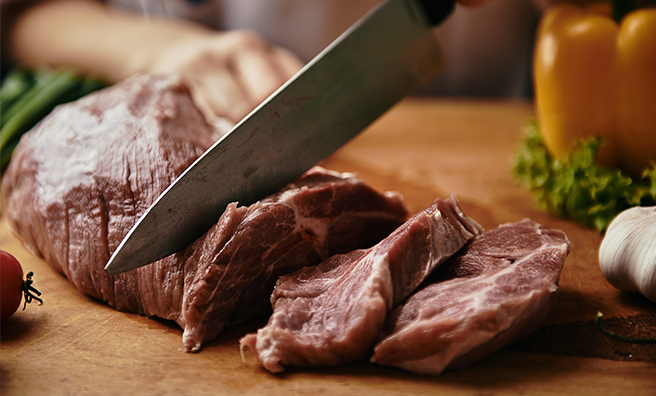 Fed up of turkey? This beef recipe makes
a perfect alternative for special occasions
Ingliston Country Club, near Glasgow Airport, will cater for more than 200 people on 25 December, offering guests the perfect way to enjoy Christmas with all of the style and none of the stress.
Here, Donald McInnes, Ingliston's Executive Head Chef, shares his favourite recipe for Christmas Day or New Year's Day that makes the perfect alternative to the traditional turkey and trimmings.
"Christmas Day is special in so many ways but for me it
is the food that really makes it.
"While most people enjoy cooking a turkey, increasingly
many of us want something a bit different. This Buccleuch
beef recipe uses the finest of ingredients and includes
the obligatory Brussels sprouts too – Christmas wouldn't
be the same without them after all."
---
Slow Cooked Borders Scotch Beef with Creamed Brussel Sprouts and Pancetta
Serves 4
Ingredients for the Beef
1 kg Scotch shoulder steak (large pieces)
100grm seasoned flour
150grm roughly chopped carrots and onions
½ bottle red wine
4 crushed garlic cloves
2 bay leaves
Vegetable oil
Salt and pepper
Method
Gently roll the pieces of meat in the seasoned flour
Heat the vegetable oil in a large, heavy, heat-proof casserole dish until hot and brown the meat quickly and evenly
Add the diced carrots and onions, cover and cook gently for 10 minutes, to render the fat out of the meat
Holding the lid over the casserole, pour away any excess liquid
Add the red wine and bring to the boil. Add the garlic, bay leaves and seasoning
Replace the lid and cook in the oven for about 2-2½ hours at 170°C, until the meat is very tender
Check regularly during cooking, adding a little water if needed
Remove the casserole dish from the oven. Lift out the pieces of meat with a slotted spoon and place in another pan, then pass the sauce through a fine sieve into a separate pot
Discard the vegetables and bay leaves
Reduce the sauce to the desired consistency and serve with the beef
Add sauté mushrooms and tarragon for a very nice finish to the dish
Serve the beef and sprouts (recipe here) with dauphinoise potatoes, roasted carrots and finish with a mushroom and tarragon gravy for a truly decadent and different Christmas.