Luxury Coffee Cake
---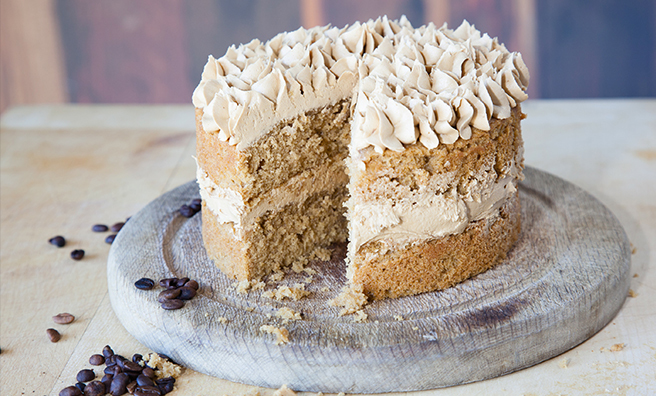 You can't beat homemade coffee cake – and the East Neuk Cooks know exactly how to give yours that little something extra

Ingredients
6oz / 170g Baking Margarine
6oz / 170g Caster Sugar
8oz / 225g Self Raising Flour
1 tbsp Camp Coffee
3 Large Eggs (beaten)
Filling & Topping
6oz / 170g Butter
12oz / 340g Icing Sugar
2 tbsp Camp Coffee
1 tbsp milk
Method
Pre heat Oven to 150⁰C/ Fan 130⁰C / Gas 2
Beat the margarine and sugar until light and fluffy, add the eggs gradually to the mix continuously beating. Mix in the Camp Coffee. Then gradually fold in the flour. Spoon into two 7 inch greased and lined sandwich tins and place in the centre of the oven for 30 to 35 minutes.
Leave cakes in the tin for a few minutes before turning out and leaving to cool on a rack.
While the cake is cooling make the icing; beat together the butter and sugar until light and fluffy then whisk the camp and milk into the icing until an even colour.  When the cake is cool spread half the icing in the middle and either spread the icing on top or pipe in rosettes.

East Neuk Cooks will be cooking (coffee cake and much more) at the grand launch party of the Crail Food Festival on Friday, June 10, preparing a smorgasbord of local produce.  They will also be selling fresh homemade soup throughout the festival in the Producers Hall.
---
About
East Neuk Cooks is a Catering and Home Delivery Service in Fife who offer freshly home cooked meals using seasonal, fresh, locally-sourced ingredients and prepared in their own kitchen.
Their online shop enables you to order all your meals securely; from starters to desserts; even platters of sandwiches and cakes for the office.