Ten Things You Cannae Miss… July 15 – 21
---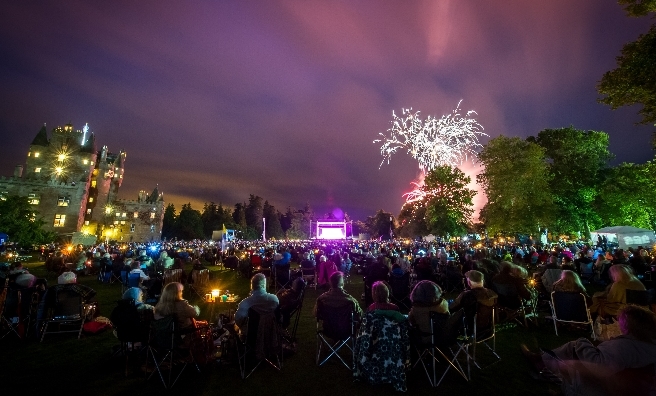 The spectacular sunset at Glamis Prom 2015
Our What's On guide to the most vibrant, most unusual and most unmissable events in Scotland this weekend and in the coming week.

A Butcher's Feast
Talks, demonstrations and the best local produce are on the menu at Balgove Steak Barn on Wednesday, July 20. Witness traditional butchery skills by Balgove Larder's Head Butcher Colin Nicoll, then sit down to a delicious three-courser.

Music At Paxton
This festival of classical music at one of the most stately of Palladian homes runs Friday, July 15, to Sunday, July 24. Lounge in the elegant luxury and listen to overtures and sonatas from the likes of The Scottish Chamber Orchestra Wind Soloists.

Glasgow Mela
Scotland's biggest free multicultural festival always brings a packed programme of music, dance and theatre to the city, and this year's no exception. On Sunday, July 17, Kelvingrove Park will be awash with live performances, and exotic, mouth-watering foods from around the globe.

Highland Games
It's Highland Game season, and there are hunners on across the country on Saturday, July 16! From Lochcarron to Loch Lomond and from Inverness to Tomintoul, there's family-friendly entertainment with all the usual suspects: piping, Highland dancing and games.

Bikes In Brechin
The quiet streets of Brechin will echo with the unmistakeable sound of hundreds of Harley Davidson motorcycles at the town's annual celebration of the iconic motorbike on Saturday, July 16. Expect displays, live music, entertainment and stalls.
The Miniature Open
In tandem with The Open, Paradise Island Adventure Golf is hosting its own Open Championship for mini golfers from Thursday, July 14, to Sunday, July 17. Head down to their courses in either Braehead or Livingston to prove your mettle.

The Scottish Car Show
On Sunday, July 17, head to The Royal Highland Centre for the largest motoring event in Scotland's calendar, and one of the biggest car shows in the UK. Boasting over 2,000 exhibitors and a range of vehicles, from modified to classic and retro, with kids' activities and paint-balling, too!

Capital Jazz
The Edinburgh Jazz and Blues festival kicks off on Friday, July 15, for a nine-day musical extravaganza across the city. The free carnival on Sunday, July 17, is not to be missed, with Brazilian drumming, New Orleans brass band, Balkan beats and maybe a Scottish tune or two.

Glamis Prom
"A Summer Evening At The Movies" is the theme of this year's spectacular Glamis Prom on Saturday, July 16. An All-star cast will perform a medley of silver screen hits, followed by a firework display against the castle backdrop. Read Wendy's preview of it here.

An Iron Age Feast!
Head to the Crannog Centre on Loch Tay on Thursday, July 21, for a menu you won't find anywhere else. Try fish baked in clay and stuffed with foraged herbs amongst other local delicacies, cooked using the methods first used there around 2,500 years ago.