Ten Things You Cannae Miss… June 10-16
---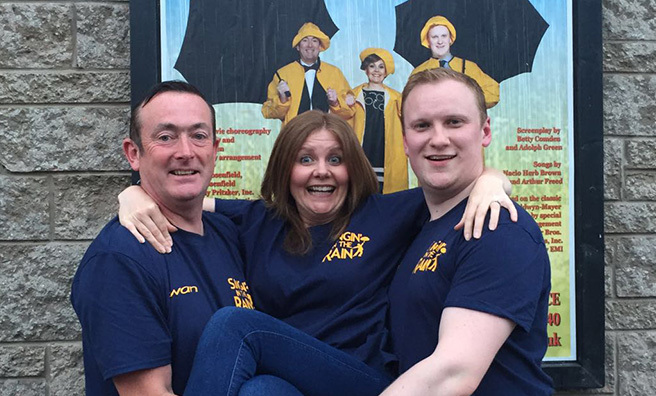 Our What's On guide to the most vibrant, most unusual and most unmissable events on offer this weekend and in the coming week

Singin' In The Rain!
Downfield Musical Society present the "Greatest Movie Musical of All Time", Singin' In The Rain, adapted (complete with onstage thunderstorm!) for Dundee's Whitehall Theatre, June 15 – 18. Tickets here.


Edinburgh Film Fest
The hotly-anticipated Edinburgh International Film Festival kicks off on Wednesday, June 15, for just under two weeks of the very best in international cinema. Check out our line-up favourites here, and the full brochure here.

A Tale of Three Bridges
'SPAN – A Tale of Three Bridges' opens at Deep Sea World on Saturday, June 11, showcasing a mix of rarely-seen historic photographs and images of the Forth bridges – including a fantastic new model of the Rail Bridge. Free with tickets to the aquarium.


Juniper Fest
Saturday, June 11, is World Gin Day – and what better way to celebrate it than at Edinburgh's Juniper Fest running right across the weekend? There will be over 30 gins to try, with talks, street food and new craft stalls for this year.

Harbour Lunch
The Crail Food Festival also runs June 10 – 12, and a definite highlight is the Harbour Lunch on Sunday, 12. Street food vendors and local producers offer up shellfish, smokies, ice cream, hog roast to the backdrop of live music on the harbourside.

Potfest at the Palace
At Scone Palace on June 10 – 12 is the 20th annual Potfest Scotland featuring some of the most creative clay makers from around Europe. Meet the potters and see their exhibits and wares to sell in the beautiful palace grounds.


Dummy Jim Screening
The critically acclaimed film "Dummy Jim" starts with a special screening in Dumfries on Saturday, June 11. The inspirational film charts the remarkable 3000-mile solo bicycle journey to the Arctic by a profoundly deaf man from Fraserburgh in 1951.

Cyclefest
The Edinburgh Festival of Cycling, from June 9 – 19, showcases and celebrates all aspects of bicycle culture – and the city itself. Sport events, guided bike tours, workshops and markets combine for an all-ability-friendly festival.


Ancient Textiles
As well as the Crannog Centre's usual fireside tales and hands-on exhibits, on Sunday, June 12, visitors can explore early crafting with demonstrations and exhibits of nettle fibre processing & spinning and textile art.

FyneFest
We're really getting into Festival season! This one is held in the field around Fyne Ales Brewery. Live music, street food and, of course, ale are on offer – and don't miss the quirky Walker's Pub, an hour's walk up the glen.