Ten Things You Cannae Miss … October 23 – 29
---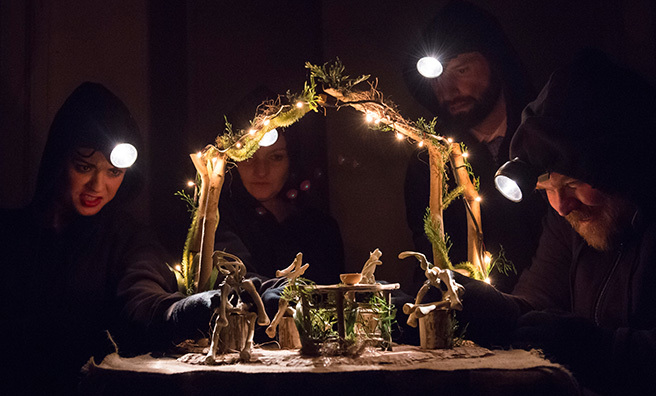 Our team have swept the length and breadth of Scotland to find you the most vibrant, most unusual and most unmissable events on offer this weekend, and in the coming week . . .

Meadow Mill Open Studios
35 Dundee-based artists, designers and makers will be throwing open their doors this weekend at Meadow Mill, Dundee. The former jute mill has been beautifully regenerated so don't miss the chance to wander round it – especially at the social evening on Saturday, November 24, including music and drinks.

Stories Without Borders
The Scottish International Storytelling Festival is the world's largest celebration of live, traditional storytelling, and it takes place Oct 23 – Nov 1. Local traditions intertwine with tales from overseas in workshops and recitals in Edinburgh and across the country. Find out more here.

Glenfiddich Championships
On Saturday, October 24, and Sunday 25, respectively, Glenfiddich is hosting its Piping and Fiddle Championships 2015, to encourage, stimulate and perpetuate the art of fiddle playing throughout the country. Pop along to hear the country's top players battle it out for the crown.

Fireworks Against Cancer
Can't wait for Guy Fawkes Night? Well, you're in luck, because Son et Lumiere, with a support cast of the Aberdeen Fire Spinners, will be putting an incredible fireworks display on Saturday, October 24. There will be stalls, food and music, too, and all proceeds will go to UCAN.


Jackie Kay
As part of Literary Dundee, Jackie Kay will read from and discuss her work on Saturday, October 24 in the University's Bonar Hall. Don't miss the chance to hear the work that won her an MBE for services to literature in 2006. Tickets here.

Second Wind Poets
On Sunday, October 26, a very special evening of poetry will be held at the Aberdeen Maritime Museum with readings a new collection Second Wind. Wise, funny, cutting and honest, the poems collected seek to challenge false preconceptions about ageing .

The Devil's Larder
After a sell-out performance in Edinburgh, The Devil's Larder comes to the Haining, near Selkirk from Thursday, October 29 to 31. The dark and comical play examines how food can act as a catalyst for unleashing our fears, desires and taboos.


Sonica
In venues all across Glasgow from October 29 to November 8, Sonica explores the boundary where music, visual art, live performance and digital technology meet. The festival of world-class sonic arts is far from your average exhibition…

Shinty vs Hurling
Scotland's Senior National Shinty Squad take on their Irish Hurling counterparts in the first Test of the annual series on Saturday, October 24 in Inverness. Join thousands of spectators and witness the clash between these two ancient and iconic sports.