Fish Pie Recipe
---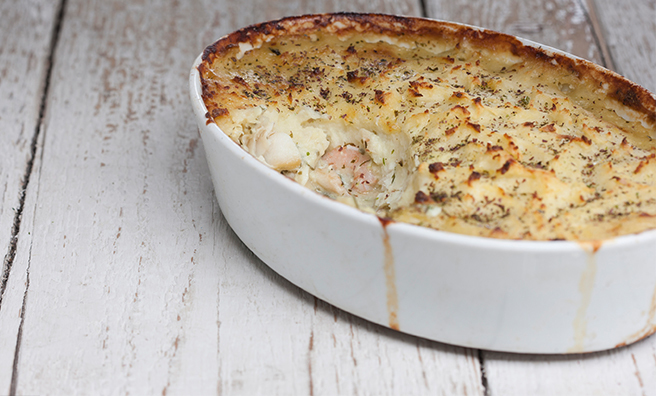 Last year one of the products on offer at Crail Food Festival was Mara Seaweed ice cream! It was surprisingly tasty, but this recipe for fish pie is a lot more tempting!

Serves 4-6
Ingredients
1½ tbsp. olive oil
1 onion finely chopped
1 celery stick chopped finely
2 carrots chopped finely
Spinach, 2 handfuls
300 mls (1/2 pint milk)
125ml (5fl oz cream)
1tbs Dijon mustard
juice of ½ lemon
3 tsp. kombu
500g (1lb 2oz) smoked fish
500g (1lb 2oz) cod
4 tsp of Shony ®
1.5 kg potatoes
Method
1 In a large pan heat the oil over a moderate heat, add the onions and fry gently until softened.
2 Add the celery and carrots and cook for about 4 minutes.
3 Then add the spinach and cook until tender.
4 Stir in the milk and cream and bring to the simmer, then add the mustard and lemon juice, kombu and pepper stirring gently to mix.
5 Cut the fish in into chunks and place in a casserole dish. Pour the vegetable and sauce mixture on top.
6 Peel and boil the potatoes and cook for 20 minutes or until soft.
7 Mash the potatoes and add butter and Shony ®. Put the potatoes on top of the fish pie
8 Bake in the oven at a moderate heat for 20-30 minutes or until golden.

Mara Seaweed will be showcasing their product range at the Crail Food Festival, June 10 – 12.
In association with Taste Communications
---
Mara Seaweed
Mara Seaweed was the brainchild of two great friends who met at the school gates whilst waiting to pick up their children. Having a common interest in foraging and Scotland's natural larder led them to explore seaweed, its health benefits and taste.
Four years later, they employ 16 people and sell their seaweed products throughout the world.  Find out more here.