Forager's Fizz
---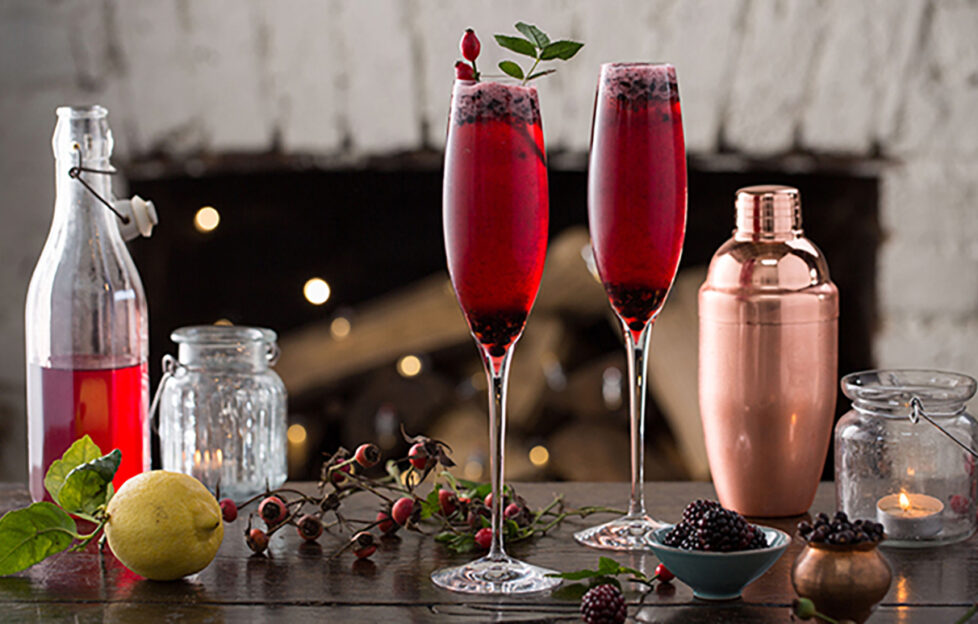 Blackberry, rosehip and juniper syrup makes for a show-stopping mocktail
Treat the designated drivers a little with Rosie Birkett's berry-packed non-alcoholic cocktail with a touch of fizz.
To make the rosehip and juniper berry syrup…
Ingredients
500g rosehips, washed (or cranberries)
500g caster sugar
1 tbsp juniper berries (found in most supermarkets)
1.5 litres of Highland Spring Sparkling water
juice of 1/2 a lemon
Method
Chop the rosehips and crush the juniper berries. Bring half the water to the boil and add the rosehips and juniper, returning the mix to the boil and simmering for 8 minutes.
Strain the liquid through muslin, then return the pulp to the pan with the other half of water, bring to the boil as before and repeat the simmering/straining process. Discard the pulp, clean the pan and return the liquid from both strains to it with the sugar. Bring to the boil and continue to boil rapidly for about 10 minutes, until you have a thick syrup. Turn off the heat, add the lemon juice and allow to cool. Pour into a glass bottle.
To make the blackberry shrub…
Ingredients
500g blackberries, washed
800g caster sugar
About 500ml red wine vinegar
Method
Place the blackberries in a bowl and cover with the sugar. Gently stir to combine and make sure the berries are coated with the sugar. Cover with a clean dish towel or muslin and leave in a cool, dark, dry place for 48 hours to macerate. Strain the mixture through a sieve so that you're left with the blackberry juice. Add equal amounts of vinegar and whisk to dissolve the sugar. Funnel into a glass bottle and store in the fridge until ready to use.
Now assemble!
Ingredients
Glass: Champagne flute
3/4 blackberries
3 juniper berries
50ml rosehip and juniper syrup
10ml blackberry shrub
Highland Spring Sparkling water
Fresh bay leaf or a rosehip with stalk to garnish
Method
Place the blackberries and juniper berries in the bottom of the champagne flute and muddle gently with the end of a wooden spoon. Pour the rosehip syrup and blackberry shrub into a cocktail shaker and shake over ice. Pour over the blackberries and top up with Highland Spring Sparkling Water. Garnish with the bay leaf and rosehip.