Spotlight: Gearrannan Blackhouse Village
---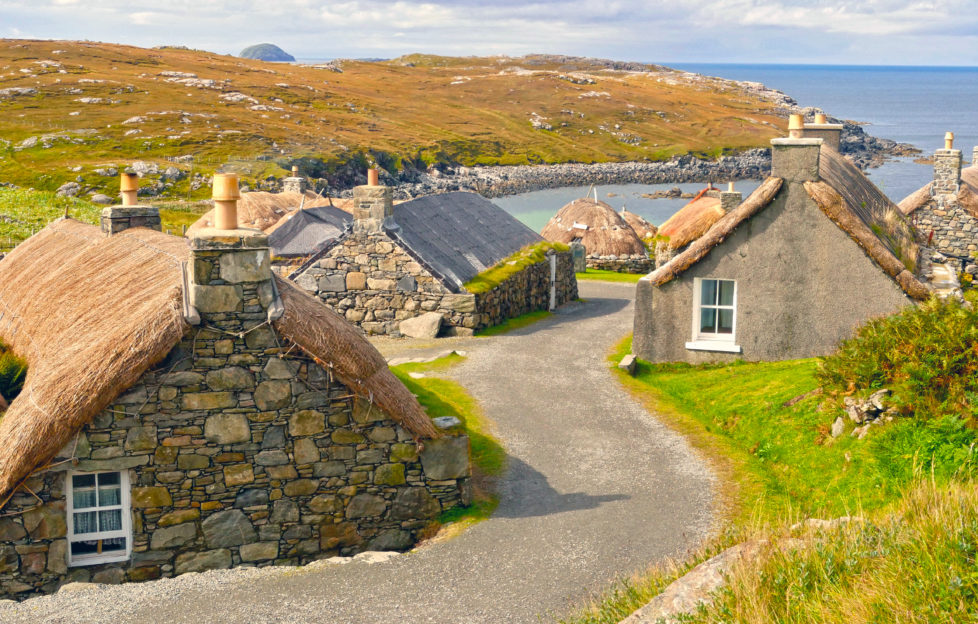 Gearrannan Blackhouse Village
Step back in time to see what life was like in traditional Scottish blackhouses
On the west coast of the Isle of Lewis, the Gearrannan Blackhouse Village is a monument to a lost way of island life. Here sits the last group of blackhouses to be inhabited in the Western Isles, abandoned in 1974. They have been painstakingly restored to give visitors the chance to experience what life was like. Some have even been converted into surprisingly comfortable accommodation!
Most of the blackhouses date from the 1800s, and visitors can wander around the village exploring to their hearts content. Guides are on-hand to demonstrate weaving and traditional activities, and the village also boasts its own shop and cafe offering homemade treats.
There are four renovated cottages let out for holiday accommodation, and a hostel.
What is a Blackhouse?
This traditional type of house used to be common in Ireland, the Hebrides, and the Scottish Highlands. They consist of double wall dry-stone walls packed with earth, then roofed with wooden rafters covered with a thatch of turf with cereal straw or reed. The floor of blackhouses were generally flagstones or packed earth and there was a central hearth for the fire.
There was no chimney for the smoke to escape through., and instead the smoke made its way through the roof. There is speculation that this is where the name "blackhouse" came from – the soot from the fire would blacken the interior walls. The thatch on the roof was traditionally held down by stones.
Other Famous Examples
You can find restored or reconstructed blackhouses across Scotland's Highlands and Islands. Gearrannan Blackhouse Village is one of the best examples, but you can also see a reconstruction at the Skye Museum of Island Life, and at the Highland Folk Museum in Newtonmore. Click the links below for more information.
Gearrannan Blackhouse Village     Highland Folk Museum      Skye Museum of Island Life
You can also find out more things to see and do on the Outer Hebrides with our island travel blogs here >>