Courgette & Lanark Blue Soufflé Recipe – Carina Contini
---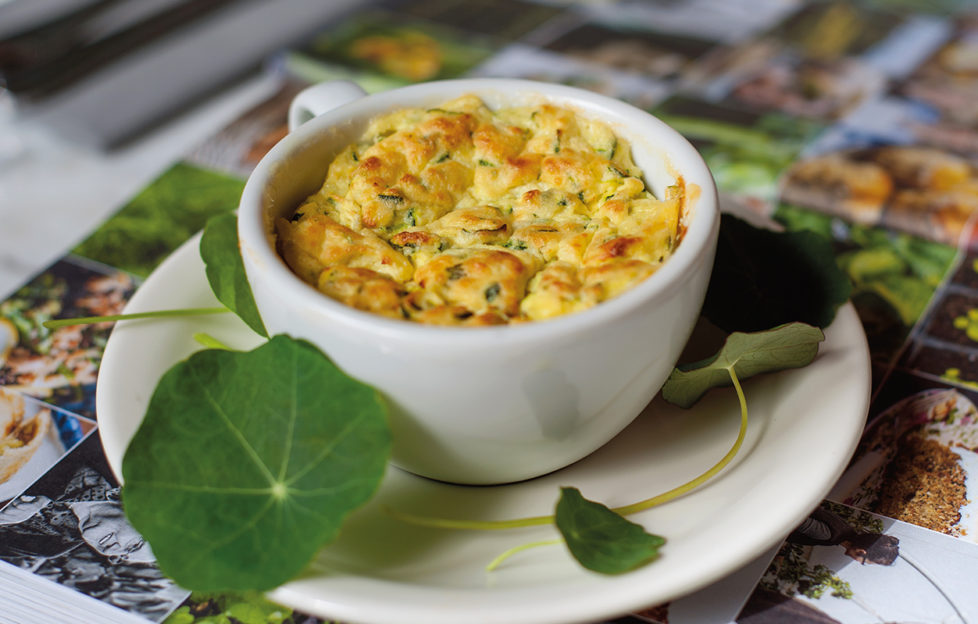 Ingredients
50g unsalted butter, plus extra for greasing
500g courgettes
Salt
50g plain flour
1/2 nutmeg, freshly grated
1 teaspoon baking powder150ml full-fat milk
Freshly ground white pepper
3 eggs, separated
100g Lanark Blue cheese
Method
Preheat the oven to 180°C/Gas 4 and grease 6 individual 150ml ramekins
Coarsely grate the courgettes, and leave in a colander with a generous pinch of salt to draw out the water.
Melt the butter in a pan over a medium heat, then add the flour and nutmeg. Reduce heat and cook, stirring frequently, for 4-5min.
Reduce heat and cook, stirring frequently, for 4-5min. Add the milk and season to taste.
Continue cooking until the mixture has thickened, stirring with a balloon whisk to help prevent lumps.
Add egg yolks and beat until smooth. With the heat very low, add the Lanark Blue and beat again until smooth and thickened. Remove from the heat.
Squeeze any excess moisture from the courgettes and add to the mixture. Beat the egg whites until very stiff in a clean, dry bowl, then gently fold into the mixture.
Divide between the greased ramekins and set in a bain-marie. Bake for about 25min in the preheated oven until light, risen and golden. Serve immediately.
Carina Contini is Owner of Contini George Street, Edinburgh; Cannonball Restaurant & Bar, Castlehill, Edinburgh; and The Scottish Cafe & Restaurant – located at the gardens entrance of the Scottish National Gallery, Edinburgh.
Credit: Carina Contini
Carina considers the dominance of French cuisine 
I'VE been thinking a lot about the difference between my own childhood memories and those of my children. I suspect my kids think I was born in the pre-Victorian era and that I lived most of my life before they came along either down a coal mine or up a chimney. I seem to have painted such an alien picture of my early years that they now don't take me seriously at all.
It's true that, when I compare our childhoods, they really are very different. For one thing, when I was younger, treats were treats. Being allowed a proper bottle of Coca Cola felt as good as a trip to Disneyland – though there was no chance we'd ever have got to Disneyland. That's just one example: the list is massive.
However, as my children keep telling me, times have changed. With this in mind, I have decided to go all out and create a memory-making treat for someone who really deserves it.
My mother was 89 recently and, to make the birthday very special, the girls and I took Nonna to Paris for a day. It was a flying visit, literally, but she hasn't been for more than 50 years so we wanted her to have a memorable experience.
Post-war Paris was the furthest my parents used to travel. It was easy to access from London and, in the days when the car could be loaded onto the train at Edinburgh, Paris was the perfect destination for a break.
Like most of our international cities, Paris has a reputation for fabulous food. It was one of the culinary capitals of the world in my mother's day, and it
remains so now.
A touch of French fancy in the kitchen
Growing up, our cooking at home had many French influences and I hold onto them for high days and holidays – even though my day-to-day cooking is far more Scots Italian (that's pasta and mince and tatties, just not at the same sitting).
Well, I've been saving up and I have a few treats in store for Mum. On the ever-growing list are visits to legendary boulangerie Du Pain et Des Idées; macarons from Ladurée and pastries from Fauchon – and that's just the snacks.
My tummy likes these French delicacies, perhaps because I have the healthy side of life covered with my Italian cookery. As I never tire of saying, with Italian recipes and Scottish ingredients, we have the best of both worlds right here at home – it made me think I should have forgone Paris and settled for a day in the kitchen – that would have been just as memorable.
One thing is for sure, I never got to go to Paris for the day with my grandmother, but my daughters will have amazing memories living the high life with their Nonna.
Maybe changed times aren't so bad after all.
What could be more fancy and French than a soufflé? The Errington family are our food heroes and their beautiful Lanark Blue is made to the same style as that very famous French cheese Roquefort. A lovely French-Scots combination. Try your hand at my recipe on the left!
Find out more at www.contini.com
See more of Carina's recipes for us

here

and discover a new one each month in


The Scots Magazine