Tasty Father's Day Macaroon Recipe
---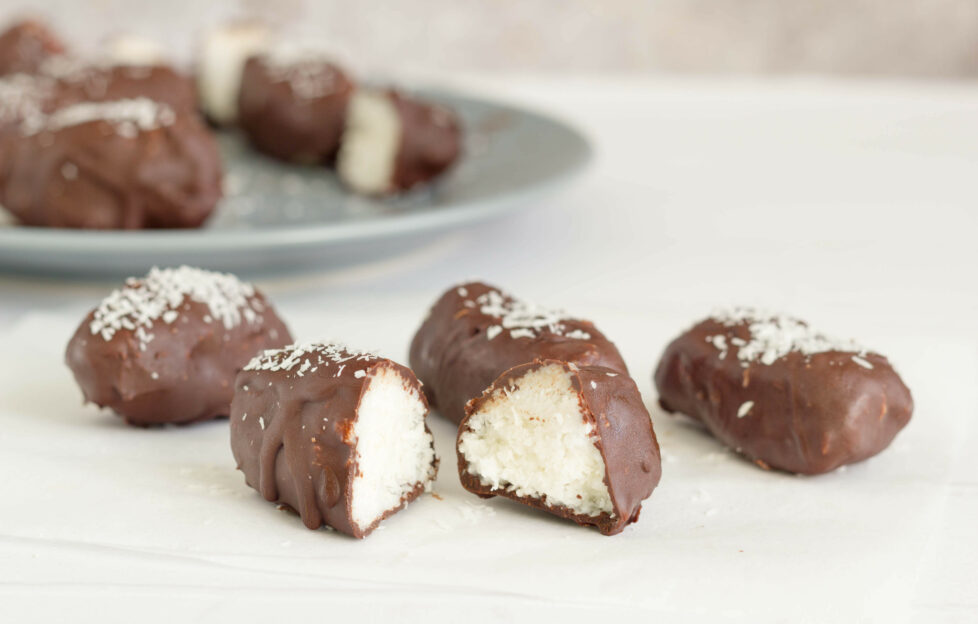 Ingredients
600g Icing (Powdered) Sugar
60g Mashed Potato
120g Quality Dark Chocolate
125g Dessiccated Coconut
Method
Your first task is to make the fondant for the macaroon, to do this put your mashed potato into a mixer or food processor.
Next add ¾ of the icing sugar and slowly mix.
Gradually add the remaining icing sugar until you have a dough type consistency.
Meanwhile, break up the chocolate and melt slowly in a bowl over a pan of hot water.
Toast your coconut on a baking tray under the grill.
Once the potato and icing sugar mix is ready, it should be a pastry type consistency and easy to roll out. Add more sugar if you need to.
Roll it out until around an inch thick, and cut into whatever shapes you prefer.
I tend not to dip the cut shapes into the chocolate I use a pastry brush and carefully coat the fondant with the chocolate; I try and keep the chocolate to a minimum as it can overtake the other ingredients.
Before the chocolate sets, dip the shapes into the toasted coconut, or sprinkle the coconut on top.
Allow the bars to set on a cooling rack, then store in a lidded container - or enjoy immediately!
Credit: Gary Maclean and Mary's Meals
Gary Maclean, The National Chef of Scotland and MasterChef champion, whips up a tasty treat for Father's Day
This Father's Day, I'm sharing this macaroon recipe and thinking about the joy my children bring to my life. Their energy, enthusiasm, and joy all give me hope for the future.
I am supporting Mary's Meals because this wonderful charity is a beacon of hope around the world. With the promise of a daily meal in a place of education, hungry children are attracted into the classroom where they have the energy to learn their way to a brighter future.
Thinking about my children – and the children that Mary's Meals support – brought me back to when I followed a macaroon recipe for the first time with my son Cameron, about 20 years ago.
When he was five, Cameron wanted to support his school and set up a sweetie stall at the school fair. I have been making them ever since and they have graced tables all around the world as a petit four.
Food often brings families together, and in the case of Mary's Meals, provides hope to those who need it most. Try out this macaroon recipe to share with your family. Please join me in supporting the charity, too, so it can keep its promise to the 2,279,941 children who rely on a daily meal.
For more information on Mary's Meals or to order a last-minute digital gift for Father's Day, please visit marysmeals.org.uk