Bringing Greek Cuisine To Glasgow – Recipe
---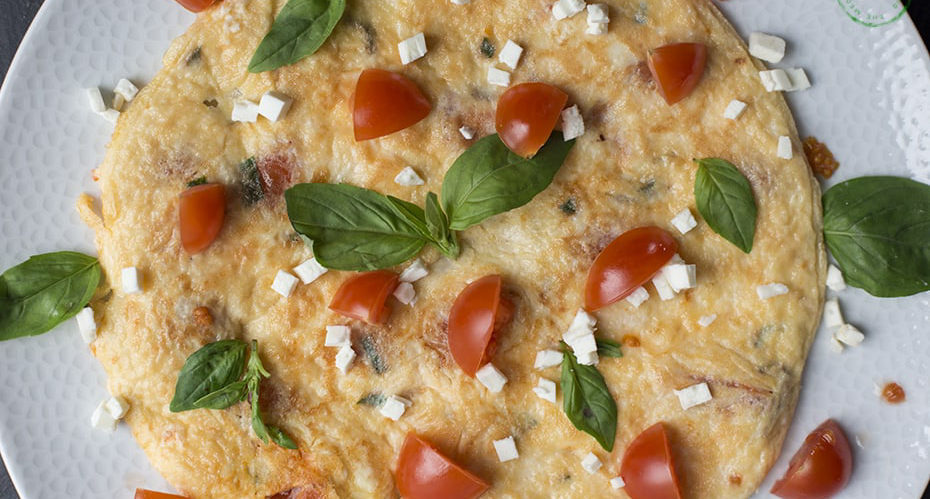 Create this stunning, tasty and healthy omelette with this recipe
Ingredients
2 free-range eggs
30g (1oz) feta cheese, cubed
4 cherry tomatoes, quartered
2 basil leaves, finely chopped
1 tbsp extra-virgin olive oil
Method
In a medium sized pan, add half of your olive oil and warm up on medium heat
Lightly beat the eggs
Mix in feta cheese, cherry tomatoes, basil leaves and the rest of the olive oil
Stir carefully so all ingredients are well distributed
Pour the mixture into a pre-heated pan on the hob
Lower the heat and cook closly for approximately 5 minutes on each side
Serve, and eat before it cools!
Credit: Dr Katerina Vasilaki
Gorgeous Greek-style Omelette recipe from the Mediterranean dietitian
Born and raised on the Greek island of Corfu, Dr Katerina Vasilaki is a registered dietitian, clinical nutritionist and food blogger who is passionate about the Mediterranean Diet and way of life.
She moved to Glasgow in 2006 to study her PhD, and has been acclimatising to the Scottish weather ever since!
In 2015, Katerina decided to set up The Mediterranean Dietitian. The website/blog offers nutritional information and healthy recipes based around the Mediterranean diet and lifestyle.
"I grew up on the farming fields of Corfu and my granny was a huge inspiration," Katerina told us.
"She loved basic ingredients, flavours and cooking amazing food which often came from the vegetable plot in the back garden.
"When I moved to Glasgow I was worried that I'd left the Mediterranean way of living behind. That's why I set up the Mediterranean Dietitian blog – to share this delicious and healthy way of life with people from Glasgow, Scotland and further afield.
"Glasgow is my home city now and I love going out and finding the best local ingredients. I'm experimenting with my own herb and vegetable growing, too – just like my granny."
Try out Katerina's recipe for a Greek-style omelette on the left, and find out more on her website here.