Carina's Roast Fennel & Sea Bass Recipe
---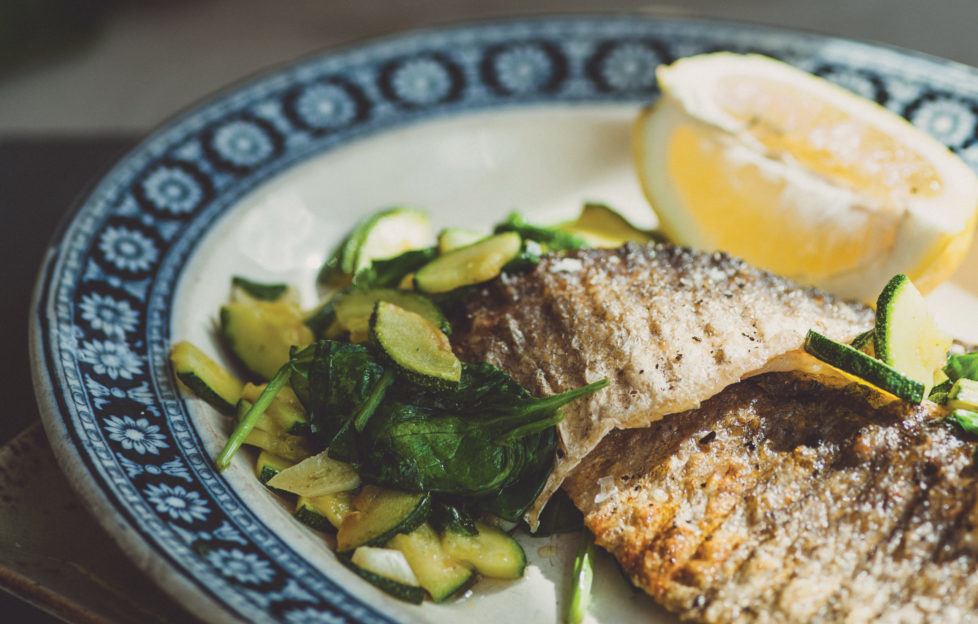 Roast Fennel Herb Sea Bass Ingredients
One sea bass fillet per person
Olive oil
Broken fronds of fennel
Salt for seasoning
Method
Add oil to a hot grill pan or heavy-based frying pan
Add the fish, skin side down
Fry for a few minutes until skin is coloured
Transfer to a large, flat baking tray
Season with the salt, fennel and a drizzle of olive oil
Quick Pan Fried Greens Ingredients (per person)
1/2 courgette
100g fresh, washed spinach leaves
1 small clove of garlic
Squeeze of fresh lemon juice
Extra virgin olive oil
Salt
You can add a few capers if you fancy an extra little zing!
Method
Wait until the very last minute before cooking the vegetables. Choose a frying pan that's big enough to flash fry your ingredients.
Start by adding a little oil to the pan, then add the ingredient that will need cooked longest first.
With the heat of the pan quite high, slowly add the other ingredients and gently move the pan to stop anything sticking or burning.
The garlic needs very little cooking, so add this near the end to give a very light aroma that won't overpower the other ingredients.
The aim is to keep the crunch of the vegetables, and the extra ingredients just give a background of texture and taste.
Credit: Carina Contini
Too Much Choice?

Our star chef Carina Contini harks back to her father's passion for the finest haddock, and explains how his influence lives on today
I AM feeling slightly smug. On the one hand, I've been taking my 10k walk as promised – on the other, when I sat down to write this column I still did so with a cup of tea in one hand and a bar of chocolate in the other.
My father said he'd go to hell with good intentions. Me too! These beautiful long, bright nights really make you feel good. And there is no guilt wrapped around my Kit Kat. My walk always gets me thinking happy thoughts.
Tonight I've been thinking about my father. John Wayne and my father – had they ever met – would have been the best of pals. Both were men of few words who could communicate a lot with just a look, often to be found with a cheroot – that's a cigar for those of you not in the know.
Of course, my father was a Lone Ranger in a Volkswagen van rather than on a horse, but he did like to prop up the bar in the saloon.
While John Wayne's characters might be rounding up cattle, my father was more of a fish fanatic. Living between two harbours, we were spoiled for choice. At the height of the summer, my father would head off to Dunbar or Eyemouth to get the best haddock price as the fishermen in Cockenzie and Port Seton mainly had lobster and prawn boats. It wasn't unusual for him to go through 200kg of fish on a busy weekend. You've got to remember there was no choice – but with a really fresh haddock supper, who needs a choice? There are few things more delicious.
More change, less choice
Our generation, and our customers, demand so much more choice than my parents offered a generation or two ago. But does more choice really serve any of us well? Choice leads to more waste, higher prices and more time pressure on the kitchen. Compared to when we opened our restaurant in the early 1990s, our menu is actually far smaller. We now focus on changing the menus more often rather than having a large choice that is fixed for months. We may have the same fish on the menu for a couple of months if it's in season, but we'll change the accompaniment.
Sea bass is always popular at Contini George Street. Line-caught is by far the best and – chargrilled very simply – might even be better than a haddie! To go with the bass, sometimes we pan-fry baby cherry tomatoes with some taggiasche olives and fresh basil, or blanch some beetroot with loads of fresh herbs and a few capers. At home I'll cook it with a very simple combination of spinach, courgettes, a little garlic and a squeeze of lemon.
Cook with the seasons and use super-fresh ingredients. With a light touch, it's very difficult to combine flavours that don't work together. And, in the classic words of Wil Andersen, the John Wayne character in The Cowboys, "Slap some bacon on a biscuit and let's go!" Good cooking doesn't have to take you all day.
You can catch a fresh recipe from Carina
in The Scots Magazine each month
Carina Contini is Owner of Contini George Street, Edinburgh; Cannonball Restaurant & Bar, Castle Hill, Edinburgh; and The Scottish Cafe & Restaurant – located at the gardens entrance of the Scottish National Gallery, Edinburgh.