Apple and Bramble Crumble
---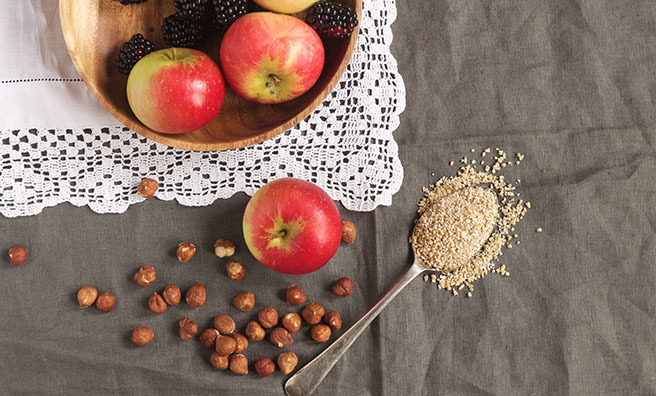 Bramble season is here, and Graeme Taylor has a great crumble recipe for the gems of the hedgerow
Foraging is a term that is on everyone's lips these days. Wild garlic, mushrooms, nettles and elderflower are now seen as fairly standard ingredients as the search for free food becomes more and more fashionable.
Growing up in the 1980s, however, for me wild food meant only one thing. Brambles, lots of them. Their sweet tartness always drew me into the midst of those thorny twines to find those elegant purple berries. The nicks and scratches were always worth the juice-covered face and hands that would be met with exasperation when I returned home.
Brambles are the flavour of a Scottish autumn, that comforting season when we reach for jumpers and scarves. As days get shorter and the weather turns cooler, nature turns leaves into bursts of yellow and orange, adorning trees with ripened red berries as if undeterred by the brush of winter.
Autumn reminds me of childhood walks through wood and along hedgerow – miles of oak, chestnut, hawthorn and thistle stretching all the way to The Clyde. I always looked forward to the walk back home, with the smell of coal and wood smoke hanging heavy in the damp air as we approached the promise of a hearty stew.
The Scottish larder comes alive
In Scotland it is the season of harvest, and the larder comes alive with roots, fungus and orchard fruits, while the kitchen becomes a place of long slow cooking, and the comforting scent of warm, rich fruity desserts.
My everyday cooking mostly comprises savoury food (lentil soup and venison stew is a perfect autumn meal to me), but when I occasionally venture into the realms of sweetness, rekindling a childhood passion for desserts, there is only one that I long for: crumble – always with custard; never cream or ice cream.
Crumble for me is a particularly Scottish dish and is well-suited to our climate; the fillings changing with the seasons. If you ask most Scots of a certain vintage what their favourite crumble is you'll always get an answer: gooseberry, apricot, raspberry, or my particular favourite, rhubarb.
In autumn, however, it has to be apple and bramble. The apples hang heavy on the trees, the boughs straining under the weight of ripening fruit while eager hands wait below. Brambles, too, glisten expectantly under the morning dew.
The ingredients in this apple and bramble variety are all essentially 'native' or at the very least heritage flavours which have been grown in the country for centuries. The apples can be any variety you have available, although I prefer to use eating apples as their inherent sweetness requires less sugar.
For this recipe I used Discovery which are a little eating apple that grows in my parents garden, but you can use cooking apples if you prefer, you will simply need to increase the quantity of sugar and cook the apples in the initial stage for a bit longer.
For the topping, salted butter is my preference as I find its mineral tang works well alongside the sweet and tart flavours of the fruit, but this is a personal choice and you can use unsalted if you prefer.
With crumbles I find it really is all a matter of taste and a recipe is merely a guide rather than an irrefutable set of instructions.
For an extra crunch on top I use toasted pinhead oatmeal and hazelnuts. Oatmeal is such a wondrously versatile Scottish ingredient and while hazelnuts may not be readily available in Scotland these days, they are indigenous, and in 1995 archaeologists found hundreds of thousands of hazelnut shells on Staosnaig, Colonsay, suggesting a rudimentary hazelnut farm. Carbon dating showed them to be circa 9,000 years old.
This truly is a heritage Scottish dish which sums up the flavours of autumn wonderfully and if it is made after a little foraging of your own then all the better.
Apple and Bramble Crumble
(serves 4)
Topping
200g plain flour
140g cold butter
110g dark demerara sugar
30g pinhead oatmeal
2tbsp chopped hazelnuts
Filling
3 medium eating apples (or 2 cooking apples) cored and chopped into 2cm chunks
150g brambles (washed)
1 tbsp dark Demerara sugar

Method
1. Place the apples in a saucepan with a splash of water and cook over a medium heat for 5 minutes until they start to soften slightly
2. Meanwhile rub the butter into the flour and sugar until it gains the consistency of breadcrumbs. Try not to overwork the mixture; you want it to remain light
3. In a small pan toast the oatmeal and chopped hazelnuts for a couple of minutes over a medium heat, tossing occasionally to ensure they don't burn
4. Pour the apples into a large ovenproof dish such as an ashet, spreading out into an even layer
5. Scatter the brambles on top of the apples, pressing down lightly to keep the fruit as level as possible, then sprinkle over the sugar
6. Spread the crumble layer evenly onto the top of the fruit then add the toasted oatmeal and hazelnuts, again ensuring an even spread
7. Bake in the oven at 200ºC for 20 minutes until the topping is golden brown. You can serve the crumble with custard, cream or ice cream, but custard is by far the best!
---
Top tips
Taste the brambles before using, if they're very tart you may want to increase the sugar or reduce if very sweet.
Leaving the apple skins on holds the shape of the apples together for a chunky crumble. If you prefer the crumble more gooey (a technical term!) then peel the apples.