Smoked Haddock Risotto
---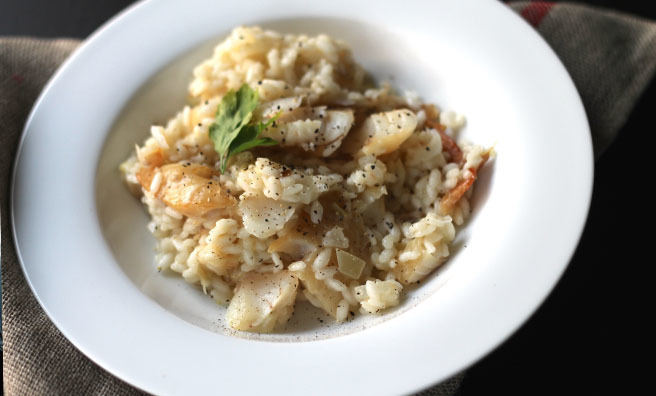 Garnish with a leaf of parsley and parmesan if desired. Pic: shutterstock
In this week's food blog, Graeme Taylor celebrates the overseas influence on Scottish cuisine…
It's hard to overstate the effect of immigration, invasion and overseas adventure on the cuisine of Scotland.
While the food of the nation is mostly defined by produce, there are many aspects of the way we cook and eat in Scotland that has been introduced from overseas.
A pinch of Italian seasoning
Since the latter part of the 19th century Scots-Italians have had an enormous effect on the nation in many walks of life, but it is probably through food, ice cream and fish & chips being the most obvious examples, that the Italian influence is most apparent.
After Italian unification in 1861 many people left the country to escape poverty, coming to Scotland either en route to America or to work in Scottish industries. Many Italians also turned to food as a source of income, however, and the sight of the 'hokey pokey man' offering ecco un poco, a taste of ice cream from his cart, became commonplace, as did going for pesce e patate (fish and chips) at the Italian café or takeaway.
By 1905 Glasgow alone boasted over 300 Italian cafés, a number that had quadrupled in only two years as Scotland became beguiled with the new and exciting flavours. Some of these elegant cafés remain to this day, and the sight of the entwined tricolore italiano and saltire is still a common sight over many chip shops.
Ice cream and fish & chips may have been the entry into the Scottish diet, but in the intervening century Scots have hungrily embraced the expanded cuisine of generation upon generation of Scots-Italians.
I am no different in this fact, loving our visits to the local trattoria as a child. The first cookbook I ever bought was to learn the Italian food I'd grown up taking for granted as being a part of Scotland's cuisine.
Risotto is a labour of love
One Italian dish that has made its way into our diets is risotto, which is my favourite to cook. It is perfect for showcasing the massive variety of Scottish produce, providing the perfect platform to deliver the purity of flavour from Scotland's natural larder of meat, fish and seafood.
There are many quick fixes to making risotto, but to make it properly, celebrating produce and flavour, is a labour of love.
For me this starts with making fresh stock, and while you can simply use stock cubes I find that if you take the time to make your own stock, from shells, carcasses or peelings then your dish will have a far greater depth and a cleaner, more authentic flavour.
The stock should also be added ladle by ladle, this might seem like a lot of effort but it's worth every bit of it as you develop the creaminess from the rice – I also find it quitetherapeutic! Don't be tempted to shortcut the stirring; it's all-important in getting the correct result.
Risotto fits well with Scottish cooking as it allows a perfect reflection of the seasons. My kitchen sees leftover roast chicken, or asparagus and lemon risotto in spring; tomatoes, peas, and broad beans for the summer, and in autumn it always has to be mushroom. But the one risotto combination that I believe is quintessentially 'Scottish', is this one made with smoked haddock.
For this, I make a stock simply from the liquor from poaching the fish as I find it gives it a cleaner flavour than fish stock made from bones, or vegetable stock. I enjoy the sweetness from peat-smoked haddock from my local fishmonger in Glasgow, but any cold smoked haddock will work well, as long as you ensure it is undyed haddock – the bright yellow dye gives the dish a less attractive hue and flavour.
The last stage of adding a final ingredient once the risotto is cooked is what determines a perfectly balanced flavour. You can choose hard cheese like pecorino or parmesan to give creaminess, butter for a bit of sweetness, or a splash of sherry vinegar to give a nutty flavour.
I tend to not use anything in this particular risotto to let the flavours speak for themselves, although it's all a matter of personal preference.
As autumn begins to bring the shorter days this is a perfect Friday evening meal at the end of the working week, and once you've mastered the technique of making risotto then experimenting with Scotland's natural larder through the seasons will become a culinary adventure.

Smoked Haddock Risotto
(serves 2)
Ingredients
1 fillet smoked haddock – skin off and preferably peat-smoked
1 small onion – finely chopped
1 small leek – white only, finely chopped
150g risotto rice
1 small glass white wine
Knob butter and splash olive oil for frying
400ml cold water
1 bay leaf
Salt and black pepper to season

Method
1. Make the stock by gently poaching the fish in 400ml cold water with the bay leaf. After 4 minutes the haddock should be cooked. Remove fish from the stock and reserve both
2. In a heavy based sauté pan sweat the onion and leek in the oil and butter until soft- do not brown
3. Add the rice and stir to cover with the oil, cook over a low heat for 3-5 minutes, stirring often and being careful not to burn
4. Turn the heat to medium and add the wine, stirring rapidly until it all evaporates
5. Add the stock (bayleaf removed) ladle by ladle, stirring until each ladleful has evaporated before adding the next
6. Continue adding the stock one ladle at a time until the rice is al dente. This is approximately 15 minutes but timing will depend on the rice
7. Stir through the haddock to break it up. Do not flake; you want to keep reasonable size chunks
8. Remove from the heat and correct for seasoning with salt and a good grinding of black pepper, and add the extra final ingredient if desired

Haddock is an extremely versatile fish, and as as good in risottos as it in in batter! Pic: Shutterstock
---
Top Tips
For an added Scottish twist try garnishing with grated Bonnet, a hard Scottish goats cheese from Ayrshire, instead of parmesan.
Risotto is a great way to feed vegetables to children. Make with whatever veg is in season such as carrot, courgette, fennel, broad beans and peas chopped fairly small and finished with cheese for a delicious dish.
If you'd like a quick visual guide to making this dish then you can see my YouTube video for a quick demo.