Tom Weir | Sutherland's Law (II)
---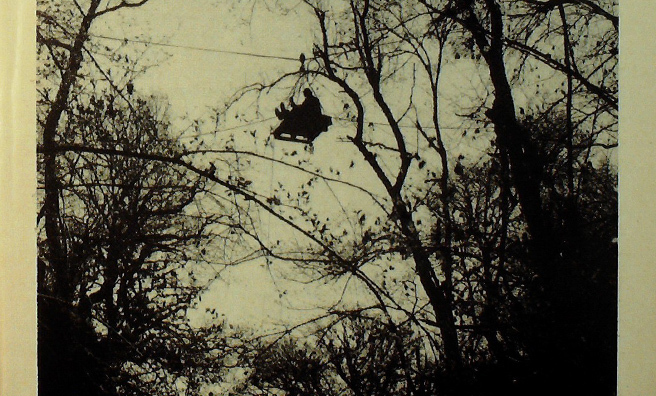 Part Two of a glimpse into Gordon Sutherland's crofting life – lived on his own terms
I volunteered to do the cooking while Gordon lit the fire and finished off a few chores.
I liked the long low timber house, with its rooms all lacing out beyond the plunging gorge to Loch Ness. The knotty pine wood lining gives it a typical old Norwegian log cabin finish inside, snug and practical with an open fire in (he living room and a kitchen with a choice of gas or electric stoves.
"It's all very home-made," grinned Gordon, "including that oak dining-room table we're going to eat off."
---
Building A Home In The Wilderness
---
Over the meal and with a dram at the fireside I heard how he came to be here.
"It was all very accidental. I was chatting at a gate with a very helpful local man, talking about crofting and saying how much this place appealed to me with its oak and­ birchwood gorge and steeply sloping fields, when he suggested I should make contact with the owner and try to buy the place since it wasn't being worked.
"The man who told me—Willie Grant, he's a good friend now—did me a good turn, for I got the place, 50 acres, and I was able to rent another 50 acres. There was no house on the croft, so I lived in my Land-Rover while I set about building what I thought was the cabin which would be my home.
"That's it across the drive on a higher site —I use it as a store and museum now. It would have done fine, but the Planning Authority didn't think it was up to standard. They said I would have to submit a plan for a proper dwelling house.
"It was quite a struggle to get them to agree to a timber house. They wanted natural material— concrete blocks, would you believe, but I persisted, with the help of an architect friend, Calum Anton of Fortrose. They allowed it in the end, but wouldn't let me have the eaves I wanted which they thought unsuitable for the site."
---
Not For The Fool-hardy
---
"I dug holes in three feet of clay and rigged up a jib to lift Douglas firs from Atholl as uprights for the frame, and I got much of the timber from my old farm, Boreland, at Kirkmichael, for six rooms, kitchen and bathroom, plasterboard and timber-lined.
"I've always been good with my hands, but I had great help from my friends, Jimmy Rattray and Dan Webster from Strathardle. Dan is a wonderful mason and Jimmy a first class joiner. A brilliant carpenter, Jack Lowe came up from Strathardle, too, in one of the worst weeks of January blizzards in 1976, to fix the roof structure. It was a killing job. We were soaked and frozen, but the difficult outside work was completed and in April I moved in to a wood- lined house snug with a stove. A friend put in the electricity and I piped in water from a spring."
I asked him how the crofting had been going all this time.
"I think you could say I was living on the breadline hoping I would get a break. I had made over my farm in Strathardle to my son, and I was working in sort ol partnership with him. I would go down there, help with the hay and the sheep clipping, and take from his farm about two dozen suckled calves, yearlings, and buy another ten or so up here. I'd keep them for one more year and sell them in Inverness at quire a good profit. It's beautiful shelter here for the outwintering of cattle, not so good for sheep."
---
Diversification Into Fish Farming
---
"That's what I've been doing over the last four years, but I've also been doing a bit of fish farming. I started breeding Arctic char in conjunction with the Highlands and Islands Development Board. The original stock came from Canada and it was quite successful. The method was to put fish into the tank for spawning, and in the autumn have a few thousand young ones to mature. Lots of fish were sent away from here, and I found out the pitfalls and disasters that can occur, attending the fish, feeding them, ensuring the pipes weren't choked or frozen, for it's death to the fish if the oxygen supply is cut off for as little as ten minutes."
I had a look at the big tanks in the morning and the water-supply pipes connecting them above the gorge. With the aid of a net Gordon lifted out a big fat char to show me.
"They give a good return for the food expended, and I even put the midges to good use by placing a light over the tank. Thousands fell in.
"What I'd like to see in Scotland is a real char fishing industry as in Norway. Loch Ness is full of Arctic char, but being deep-water feeders they have to be netted, and nets are not allowed by the land-owners. It could be a great cottage industry for crofters, if they were allowed to net the fish and raise them in tanks like mine. Sølensjøen in Norway is just like a big Scottish loch and farmers there produce 12 tons of char every year, and it has been going on for centuries.
"I've got some eels in this other tank. If you look closely, with your eyes right down on the surface of the water, you'll see them draped round the pipes."
I could see them clearly.
"Eels could be another good crofting industry. Catching them is no problem, but the cost of getting them to the market alive is prohibitive. As you know, smoked eels are very popular, and if we had a place for smoking them we could do a bit of exporting."
I asked how they were caught.
"You use conical traps about three feet long, and have long nets as leaders on the bottom to direct the eels into the traps. I can sell eels to local hotels, and char, too, if I have them. As a crofter fish-farmer I can make just enough to keep going, with another side-line, geology. We can have a look at my mineral collection once you've had a walk around Abriachan."
---
Across The Gorge By Cable
---
So across the ravine we went, and I had the pleasure of swinging over the gorge in the swaying box, a lively swoop downwards into the dip, then a strenuous haul on the rope with Gordon assisting on the far bank. It was trickier to manage than I expected, because of the strength needed to hold the platform in place as you get off. Also, you have to steer round a tree jutting out from the steep gorge wall.
Behind us was an opening view over the deep slit of Loch Ness with the bulging peaks of the Monadliaths rising in the distance.
At roughly 750 ft above the loch we were in a big open sweep of high country dotted with crofts and covered with new forestry plantations, quite different from the snug corrie-like formation lower down.
Read more about Gordon Sutherland's life in the wilderness in next Friday's final instalment.
---
More!
Read more from Tom!
We have an extensive archive of Tom Weir's great columns for The Scots Magazine, and we're slowly but surely getting them published digitally for new generations to enjoy.
To see the columns we have online so far, click here.