Tom Weir | Sutherland's Law (I)
---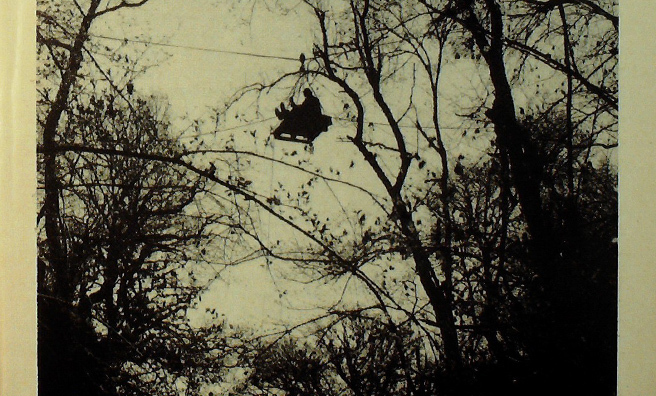 In the summer of 1980, Tom Weir went to meet a man whose journey to work is a daily adventure
I had an intriguing letter not long ago from a place I had to look up in the gazetteer — Abriachan, Inverness-shire. In it there was a phrase about the wild rugged precipices of Loch Ness which caught my interest, for I didn't know of any. The letter read:
"I suppose I am mainly a small fanner or crofter but I do other things. I have created a small farm out of the wilderness, have built the house, steading, etc. myself but the whole setting I think is rather unique. The house is separated from most of the land by a very fine and spectacular ravine, and to cross this I have rigged up a cable from which is suspended a little platform attached to a pulley.
"Every morning to feed my cattle I launch myself in space across the gorge and pull myself over. It occurred to me the other morning that I must be the only person east of the Andes going to work like this and thought that perhaps this unusual life style would be of interest to you, since the only other crossing of the gorge is by steps and a rope abseil which gets very iced up in winter and needs an ice-axe.
"This crossing is in the stronghold of the pine marten. Their tracks show up very distinctly, but I have only occasionally seen one. Badger and wildcat are here, and the fox is all too common. I'm not mad about publicity, but I really think it would be interesting for your readers to see how some people are living in remote places."
The letter was signed "Gordon Sutherland," whose name was familiar to me by repute, for I had heard of him often enough through one of his friends, who had time and again said I must meet him.
"You'll have a lot in common," he had reiterated. "He's a keen cross-country skier. He's lived with the Lapps north of the Arctic Circle in the coldest months of the year. He speaks Norwegian fluently, he's a keen amateur botanist and geologist. As for Scotland there's hardly a corner he hasn't been in, Lowlands and Highlands."
I was intrigued, not only by the prospect of seeing a new place and meeting a mighty unusual crofter, but by what I learned by looking up Nigel Tranter's description of Abriachan in his Queen's Scotland series.
"… a surprising place, in more ways than one.
To be within a dozen miles of Inverness, it is
remarkably remote, in fact as in atmosphere …"
Perhaps I wouldn't go so far as to call it remote, but it certainly feels it the moment you make the awkward turn off the main A82 and face an abrupt climb on a single-track road where a gorge cuts the steep flank above Loch Ness.
"Gordon's ravine," I registered in my mind, and when I saw a rough road leading over a make-shift cattle-grid with an unusual timber house beyond I thought it must be his. As I crunched along the drive, out came two barking dogs, a Border collie and a wee white terrier, followed by a tall rangy-looking man in a Norwegian pullover.
The voice that greeted me was soft and Scottish, the manner slightly shy.
We walked over to the ravine for a look at his cable-way.
"I got the idea from a colour photograph in an article about Peru in The National Geographic Magazine. I thought what a good thing it would be for me to save carrying fodder right round the gorge to the cattle. First I abseiled down into the gorge and made a ladder and fixed a rope. Then I found the best trees to take the wire cable. The idea then was to fix a winch and a pulley, attach the platform, then I'd be able to pull my hay over and cross back myself on the platform."
Gordon made it sound easy, but it looked pretty daunting to me with a drop of 80 ft or so below and a fair sag in the middle of the cable.
"There's a wee bit of a trick in it," he said as he pulled in the platform and seated himself on the rough boards about the size of a kitchen table. At this point the wee terrier Lapka leapt between his legs, and away slid the pulley at a rare old lick with Gordon pulling hard on the thick manilla rope for the uphill bit on the far side. Then back he came, smiling.
"You can have a shot in the morning. It's time we had something to eat."
---
More!
Read more from Tom!
We have an extensive archive of Tom Weir's great columns for The Scots Magazine, and we're slowly but surely getting them published digitally for new generations to enjoy.
To see the columns we have online so far, click here.