Millers Larder Recipe
---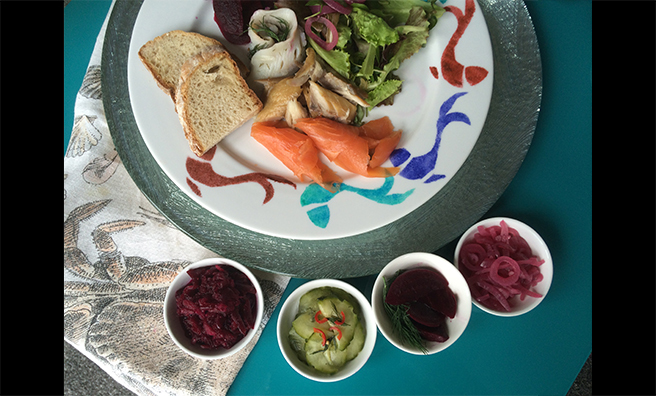 After a successful year at the Scotland Food & Drink Excellence Awards, Millers Larder have a few recipes to share with us…
Millers Larder are artisan producers of handmade preserves, chutneys and fine foods, sourcing their ingredients from local suppliers in the Avon and Clyde Valleys whenever possible.
They're currently celebrating as their Perfyit Piccalili won Foodservice Product of the Year in the Scotland Food & Drink Excellence Awards 2016!
Here, Jean Miller from Millers Larder shares a few of her top tips.
"Light quick pickling is always a good idea as it's a quick
and easy thing to do and brings out the best in vegetables,
giving extra depth, flavour and interest to a dish.
The recipes below with their tart flavour are all delicious
accompaniments with charcuterie, smoked fish, salads
and cheeseboards.
"Pickling liquor is the vinegar base which you can add
aromatics to eg. slices of chilli, fresh ginger, star anise
and other spices and herbs to suit your own preferences
– but not all together!"
---
Pickled Beetroot
---
Ingredients
1 peeled garlic clove
250 ml of white wine or cider vinegar
75g of caster sugar
4 black peppercorns
4 coriander seeds
4 fennel seeds
4 crushed juniper berries
1 sprig of thyme
1 bay leaf
Good pinch of salt
500g roasted beetroot
Method
Combine all ingredients except beetroot in a pan and bring to the boil. Simmer for 4 minutes until sugar has dissolved. Leave to cool and pass through a fine sieve.
Peel and slice the beetroot into wedges, or leave whole if small, place into a sterilised jar, pour over the strained spiced vinegar, leaving 1cm space at the top, seal with a lid and wait at least an hour at room temperature before serving.
Pickled beetroots will keep for a year if unopened and stored in a cool dark place.
---
Bonus Recipe
Beetroot and Apple Relish 
Grate two roasted beetroots and combine with a grated green apple (peeled first). Mix with a teaspoon of whole grain mustard, a tablespoon of the pickling liquid and a good pinch of salt for an easy and delicious homemade relish!
---
Millers Larder
Visit the Millers Larder website to see their range of jellies, chutneys and more!