Mountain Cafe Recipe
---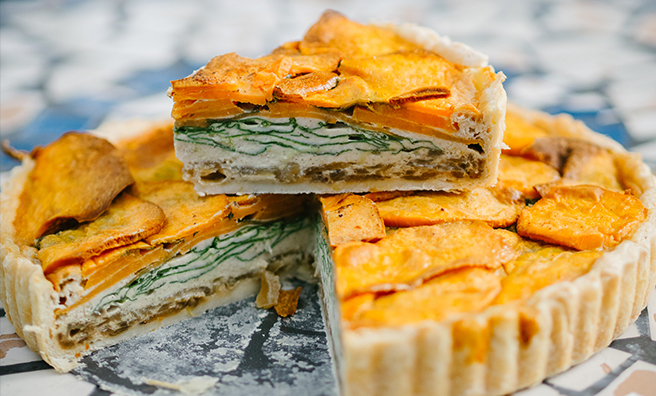 Kirsten Gilmour has compiled a few of her best Mountain Cafe recipes into a much-longed-for cook book, and we've secured a fewto share with you!
In our March issue, Garry tests out the Mountain Cafe's breakfast (reputedly the best in the Highlands) so we thought we'd follow this up with lunch and afternoon tea!
Here's the recipe for one of Kirsten's famed lunchtime quiches, from the Mountain Cafe Cook Book.
"This recipe was inspired by a recipe that I cooked in the
New Zealand culinary competitions. It started its life as
a sexy wee tart, served with Kiwi venison and a rich jus,
and won our team from Aoraki Polytech a gold medal at
the Junior Team Skills competition. It has evolved over
time and is now a quiche that we sell truckloads of – it
has fuelled many an outside catering function too."
---
Sweet Potato, Spinach and Caramelised Onion Quiche
Serves 6
Ingredients
Base
200g puff pastry
plain flour for dusting
Filling
2 large white onions, peeled and thinly sliced
25g salted butter
a splash of olive oil
30g dark brown sugar
6 large eggs
300ml double cream
2 teaspoons nutmeg
1 teaspoon sea salt
1 teaspoon cracked
black pepper
60g spinach
2 medium sweet potatoes,
peeled and cut into 5mm slices
23cm loose-bottomed tart tin
Method
Preheat your oven to 180ºC (160ºC fan) and grease your tin.
Have the pastry at room temperature so it is easy to roll.
Sprinkle a little flour onto your bench and roll out the pastry until it is large enough to line the tin and about 2mm thick.
Place and press into the prepared tin and leave to rest on the side for 20 minutes. Trim any excess pastry off the edges.
While the pastry is resting, place the sliced onions into a frying pan with butter and olive oil. Sauté on a medium heat until they are translucent and soft (about 10 minutes).
Turn the heat down. Sprinkle the brown sugar over the onions, stir through and cook gently until the onions are syrupy and caramelised (about 5 minutes). Leave to cool, then tip the onions into a sieve to drain off any liquid.
Whisk the eggs, double cream, nutmeg, salt and black pepper together in a large bowl. Put the cooked and drained onions in a layer on the pastry and cover with half of the spinach then a layer of sweet potato slices.
Add another layer of spinach and finish with the remaining sweet potato – remember that sweet potato needs to be on the top, as the spinach will burn.
Slowly pour the egg mix over the filling, taking your time so it soaks right through and doesn't pour over the edges.
Bake for 50 minutes until the top of the quiche is firm to touch and no egg mix oozes out when a knife is stuck into the middle.
---
The Quiche keeps in the fridge for four days. To reheat, give it a minute in the microwave and then finish it off in the oven at 180ºC (160ºC fan).
---
---
More Recipes!
And for dessert…?
Why not try your hand at Kirsten's Whisky
Fruit Cake!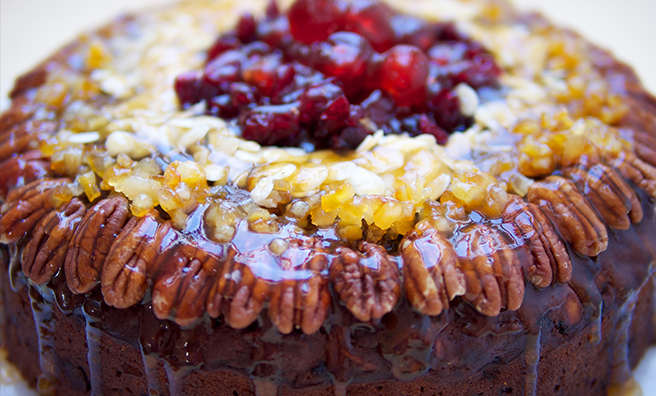 You can find loads more great recipes, and mouth-watering images in Kirsten's new book.