A Scots-Pakistani Curry!
---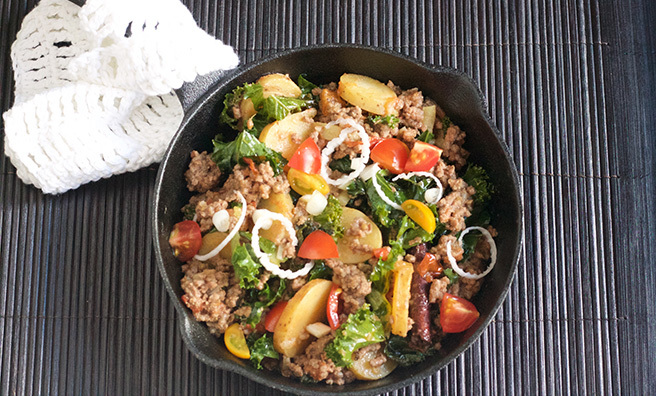 If the early part of the twentieth century was heavily influenced by the arrival of Italian flavours, the latter part was definitely defined by one word. Spice.
Spices such as salt, pepper and ginger had already made their way to Scotland via historical trade routes, but post-war immigration from India and the new nation of Pakistan brought spice-heavy dishes and 'curry' more into the mainstream – and Scots were only too willing to dabble in these new flavours.
With the advent of the first curry house in Edinburgh in the late 1940s, and then in Glasgow in 1954, Scotland saw the beginning of a culinary revolution.
Heavily Punjabi influenced in style, the restaurants which sprung up all over Scotland, following on from the trend-setters like Shish Mahal, and Koh-I-Noor, delivered meat driven dishes to a population becoming more cosmopolitan in outlook.
Developing the nation's palate
As the Scots population has diversified further, with many Scots-Indians and Scots-Pakistanis now being second, third and fourth generation Scots, the flavours and dishes being cooked have developed with the nation's palate. The introduction of the tandoor in the sixties had a huge impact, and spice quality seemed to improve in the eighties. Lighter, fresher, more fragrant dishes are now the norm with dishes changing over the past twenty years to develop more of an authentic homely feel to them.
However it is not only in restaurants and takeaways that you will find South Asian influence. There must be very few Scots home cooks who do not have a curry or two within their repertoire, or who would not have a 'tandoori' marinade for chicken when the coals are lit on the summer barbecue. Spices from South Asia like cumin and cardamom are finding themselves within mainstream Scottish cooking, and coriander has replaced parsley as a finishing herb for many a chef and cook.
As with many Scots my first recollection of South Asian flavour was from takeaway food, getting vegetable pakora and mince naan from Goodies on Great Western Road in the mid-eighties, and it is these early flavours of comfort that have stayed with me.
Mince and tatties – with a spicy kick!
Pakistani food writer Sumayya Usmani who is now based in Glasgow finds a lot of similarity with the comfort food of her homeland and that of her adopted city.
"Keema is a real comfort food in Pakistan although we serve it very dry unlike your mince here, firni (ground rice pudding) is another staple, and our aloo gosht is very similar to stovies!"
It is Sumayya's own keema recipe which is the inspiration for this keema aloo (literally mince and tatties in Urdu) which is a real mixture of the flavours of both countries with Scottish ingredients and Pakistani spices.
The spices here strip the dish back to the bones and would be classed by many people as store cupboard ingredients now, and using red onion instead of brown is essential as it provides a backbone of flavour for everything else.
I've added kale to the recipe as it is a wonderful ingredient for autumn and winter, and has been a Scottish staple for centuries. This is a dish that truly celebrates the influence of South Asian flavours on the cuisine of Scotland.

Keema aloo with kale
Ingredients
3 tbsp vegetable oil (don't use olive)
1 tsp cumin seeds
2 inch piece of cinnamon
1 tsp coriander seeds
1 red onion finely chopped
1 tsp grated ginger
1 tsp crushed garlic
2 tomatoes chopped
1/2 tsp red chilli powder
1/4 tsp turmeric
1 tsp salt
500g beef mince
250g potatoes in ½ cm slices
200-300g kale chopped
1 tsp caraway seeds (optional)
To garnish: Chopped cherry tomatoes, fresh coriander leaf and  sliced spring onion

Method
Heat the oil in a heavy saucepan over a medium heat and add the cumin seeds, coriander seeds and cinnamon.  Once fragrant add onions and fry until light brown. Add ginger and garlic, and cook until they no longer smell raw
Add the chopped tomatoes and a splash of water, and cook until tomatoes are soft and the oil rises to the top. Add the turmeric, chilli powder and salt
Add the beef mince and cook until half dry, stirring continuously. Add the potatoes, stir, cover and cook on a low heat for seven to ten minutes until the potatoes are cooked and the beef mince is dry
Add the kale and optional caraway seeds and cover for 2-3 minutes on a low heat until kale wilts through. Serve topped with the colourful garnishes.


---
Top Tips
Experiment with your own spice blend. Black cardamom, star anise, cloves and dried methi leaves (fenugreek leaves) leaves will all bring a more smoky, earthy flavour to your keema.
Use whatever vegetables are in season such as spinach or peas in place of kale.
For even greater authenticity garnish with chopped green chilli, lemon wedges and julienne ginger.