My Scotland – Jackie Kay
---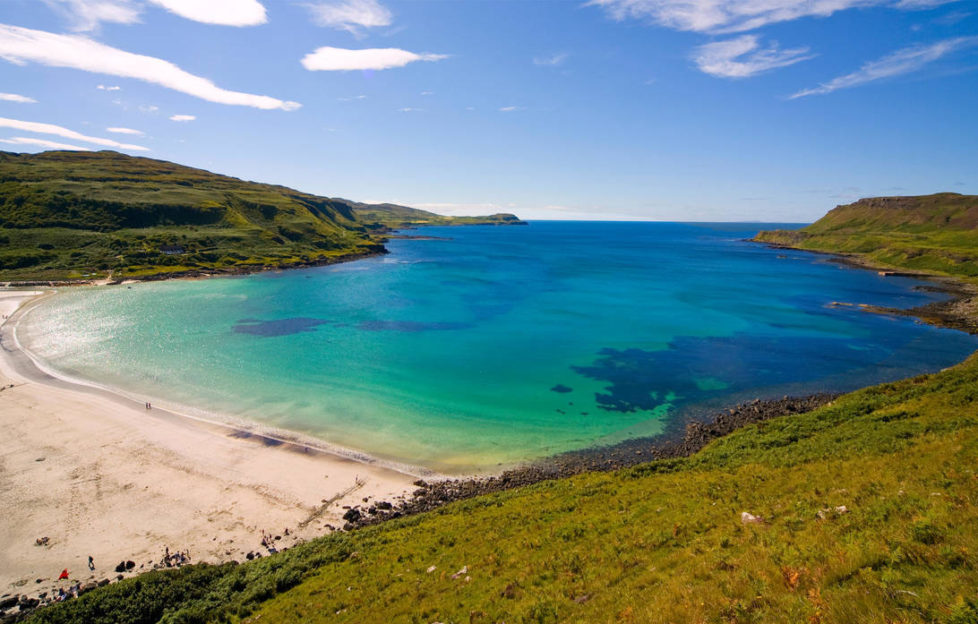 Summer view overlooking Calgary bay, Isle of Mull, Argyll.
Scotland's Makar, Jackie Kay, talks poetry, places and people…
I think Scotland is one of the most beautiful countries in the world and when you grow up in such a place, the landscape is in your heart. You feel like you belong to the land in a way that people who aren't born in such beautiful countries don't.
You definitely feel a sense of pride and ownership of the Scottish countryside and I'm always interested in capturing the changing faces of that landscape – the people who inhabit it and the look of it.
So I do write a lot about the land and the people and that's definitely because I feel such a lot for it.
Rannoch
I've been to Harris, Lewis, Orkney, Shetland, Islay… so many different places – Mull, Ardnamurchan. I visited Rannoch, which was amazing because a man in Rannoch heard me on Woman's Hour saying that I wanted to go to unexpected places so he wrote to me and said "consider us." I'd also heard they did a very good scone, so I went there and I did a reading on the old railway bridge.
It's a very iconic railway bridge and as I was reading, people were stood on the platform. Then I went and did a second reading in the tearoom for people who couldn't stand or had mobility problems. I think the thing that's exciting about readings in out the way places is that people are just so grateful that you've come. They've got their own community but they can often feel a bit isolated so I like going to places like Rannoch.
I've also been to Colonsay… gosh I haven't written a list of all the places I've been to but that's probably enough to be getting on with – oh did I say Shetland?
Torridon and Aviemore
I remember really loving Torridon as a child because it's just so wild. I like the northwest coast of Scotland the best probably because I just like the landscape. I remember going to Avielochan and staying in a caravan there. The hens used to come right up the caravan steps and sometimes come right into the caravan!
They were very bold, very bold hens! I loved Avielochan and then taking wee trips into Aviemore.
Scottish Tapestry of Poems
I said I wanted to create a Scottish Tapestry of Poems,  and that's what I've been doing but I've decided to broaden the reach of that – not just make it Isles but different places in Scotland.  Obviously I'm travelling around the country as much as I possibly can and new places like East Kilbride/West Kilbride or whether they're old places like Harris or Uist, I just thought I would write a poem for each place I go to.
It has been amazing because it gives you a chance to see your country changing.
I'm planning to go next year to Skye, Iona and quite a few other places because I've got about a year and a half left as Makar, but there are over 80 islands altogether and so I won't be able to get round all of them all by the time I'm finished unfortunately.

For more Your Scotland from Jackie Kay purchase a copy of The Scots Magazine December issue (CLICK HERE) 
Next month we chat to famous singer-songwriter Eddi Reader